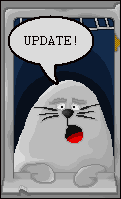 After several months without any update I would like to provide you with some information about progress of the project.
Main change is that all backgrounds in the game were redrawn from the scratch. All of them, as well as any other pictures in the game, were hand-drawn by Kacperus. I'm sure you will agree with me that he did a great job here, as they greatly increase quality and atmosphere of the game. Of course you can see all of them in the images section.
All 20 maps that were planned have been created and tested. I think they are quite varied and player shouldn't be bored while playing on them. Maps are quadratic, horizontal or vertical rectangle, small or very large, flat or mountainous, etc. They have many hidden caves and other places to visit. I have to say, that I wanted to refer somehow to my inspiration that I used to play on my Amiga many years ago, and I put Dhobbs map into the game - it is called Dhebbs here. You may see it on a Campaign screen which also was finalized.
While testing the game, I realized that current gems doesn't look "precious". I added more shading, lights and polished the edges. I think they are much more shiny right now and they encourage for digging.
I also noticed that looking for certain map in the game is very uncomfortable. To solve this I added map filters in free play mode and in both editors. This change will greatly help in navigating through all available maps, as allows to filter them base on their tileset.
Also some other minor changes/updates were implemented - for example there is new Seal in the bank ;)