Try our first local multiplayer mode in the latest free Demo!
We've been hard at work to create a new Pre-Alpha Demo, so that you guys can test your vehicle construction skills in some new challenges, with a few new pieces as well.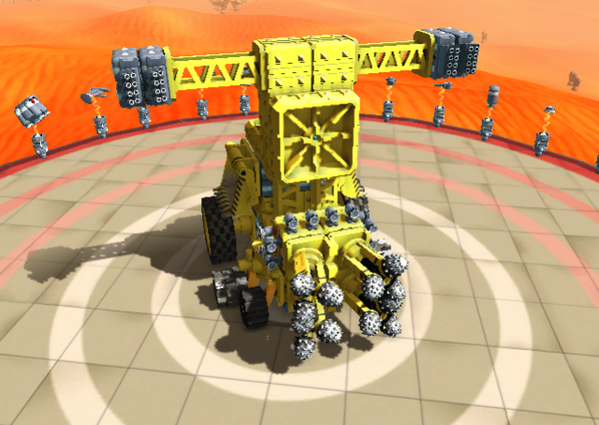 The big feature in the new Demo is Sumo Showdown. This is a single screen, 4 player, local multiplayer mode in which you are challenged to bring your best vehicle creations to face off in a duel to the death.
Using the Twitter vehicle sharing feature introduced in our previous Demo, it's easy to share your vehicle with a friend and then head over to their place to take them on in person. You can also play Sumo Showdown by yourself, pitting your vehicles against your friends' creations controlled by AI, or setup an AI only battle so that you can sit back and enjoy the carnage.
Sumo features:
2-4 player Sumo battles
2 play modes - player controlled and auto-mode
Game pad support (Xbox 360 controllers and all Unity compatible controllers).
16x16x16 block limit.
Save your best Sumo vehicles and share them online with the community.
Sumo arenas in both the desert and grassland biomes.
New tail fin piece for better airborne control.
Please continue your awesome support of our Kickstarter campaign and keep telling all of your friends and family about TerraTech!
If you're a Reddit user, it would also really help us out if you could share your experiences about the game there. We can't make TerraTech without the support of the community and we're doing everything we can to get our Kickstarter funded so that we can work on the project full-time and deliver you the best game that we can make!