Hello, I am leader of Lo-Fi Longwave owners group, we decided to make donation to Child's Play Charity. We asked Robin to play with us, and he replied he will come and he liked our charity idea, our point here is:
Update: As an additionally benefit, KritzKast with throw in vintage Lo-Fi longwaves to any winner without one already. Who already own one will get spare one (non-Vintage).
Make much as possible money for ill children
30 top donors will play with Robin Walker
Have fun playing with him
Lucky winners will can ask him any question and play just Team Fortress 2 with him
Any donation will be gladly appreciated, even if it will be only just $1. All donors will be on list of generous and wonderful humans.
Deadline to donate for Meet the Robin is 16th July 20:00 (GMT+1). The event will happen 22:00 (GMT+1)
Donate!
Links:
Childsplaycharity.org
Lifiowners.chipin.com
Any questions ask me via PM.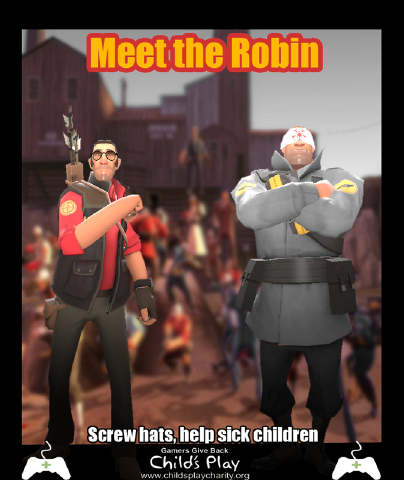 Good Luck!