Hello fans and followers of Stone Rage! Since we've already revealed the main playable animals we thought it's only fair to show some from the humanoids. This list is subject to further changes and updates, but we're confident in how things are turning out in terms of weapons, tactics, skills, player abilities and development. The art below correctly portrays our in-game characters, and screenshots are being reserved for our next update on the core gameplay and the cryengine switch itself. Look forward to a surprise...
We're also proud to present you our new official community board (www.mountainwheel.com/forum). The board is dedicated for all the people who're interested in Stone Rage, and or Dead Man Zand (second project under MWG). Please register at MWG Community Forum and share your thoughts, ideas and wishes.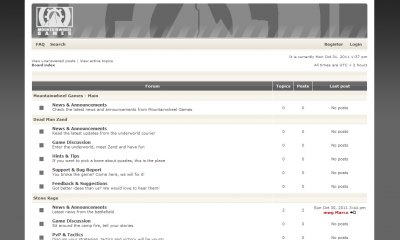 Class one: Name: Warrior (The Damage Class)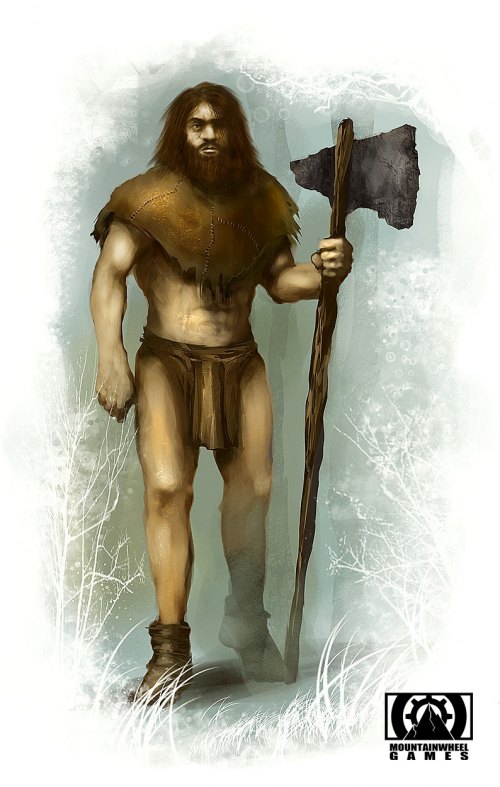 Pros:
Balanced damage dealer. Adept at close-range combat.
Cons:
Easy target for range characters. No heavy armor.

Amidst all the tricks employed and mimicked by the more clever among the tribe, there are those who'd prefer to use sticks and rocks to get their points across. In tribal life, even the simpleton has a way to aid the good of the group; usually by clobbering members of other groups with blunt objects. In large numbers these doltish killers thrive, and though alone the common warrior may not be the brightest, should one get within clubbing distance he can make sure that you aren't, either.
Class two: Name: Guard (The Defence Class)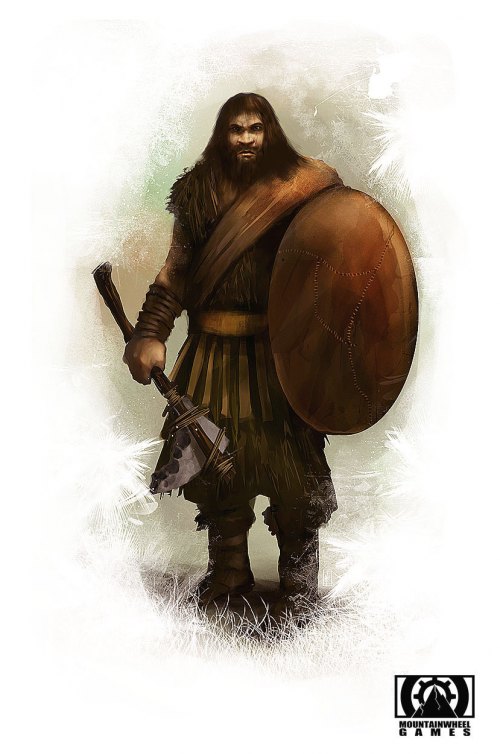 Pros:
Master of defensive combat. Heavy armor. Can easily control a fight.
Cons:
Slow running speed. Low damage. Can be overwhelmed by multiple targets.
The strongest are not always the bloodthirsty or the merciless, for some protect what they value and know when best to end a fight. Guardians of the tribe rarely leave places of importance and fewer look for trouble, but trouble is hardly a match for them. By collecting heavy pelts and stringing together shields of wood and leather, guardians can stand strong against simple dangers. When battles become grave, though, never mistake them for mere watchdogs, as the spears and slings and axes of guardian's are more than deterrents.
Class three: Name: Hunter (The Scout Class)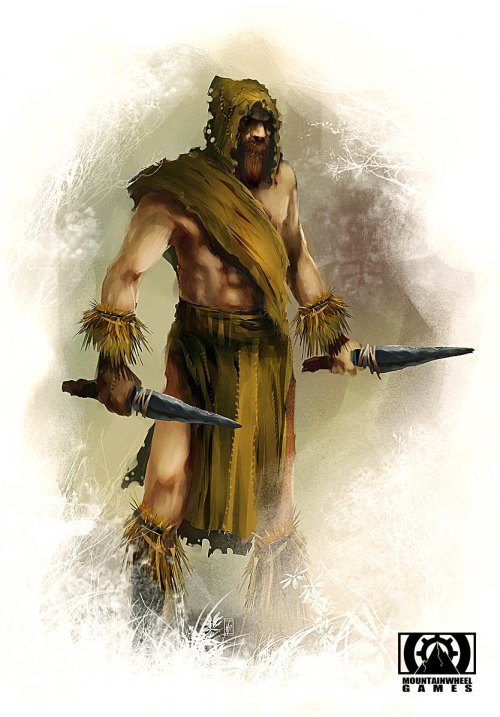 Pros:
Can set traps. Fast melee attacker. Can kill most animals easily. Useful aid in group combat.
Cons:
Low health and armor. Small melee range. Cannot block.
None are closer to nature than those who can strangle any given animal. The Hunter is a man of reclusion, favoring trees, camps and hideouts to the crowded messes of troglodyte huddling in caves or wandering en masse. By use of traps, poisons, snares, vine ropes and short knives, a hunter with enough patience can single out his prey, be that man or beast.
Class four: Name: Range (The Archer Class)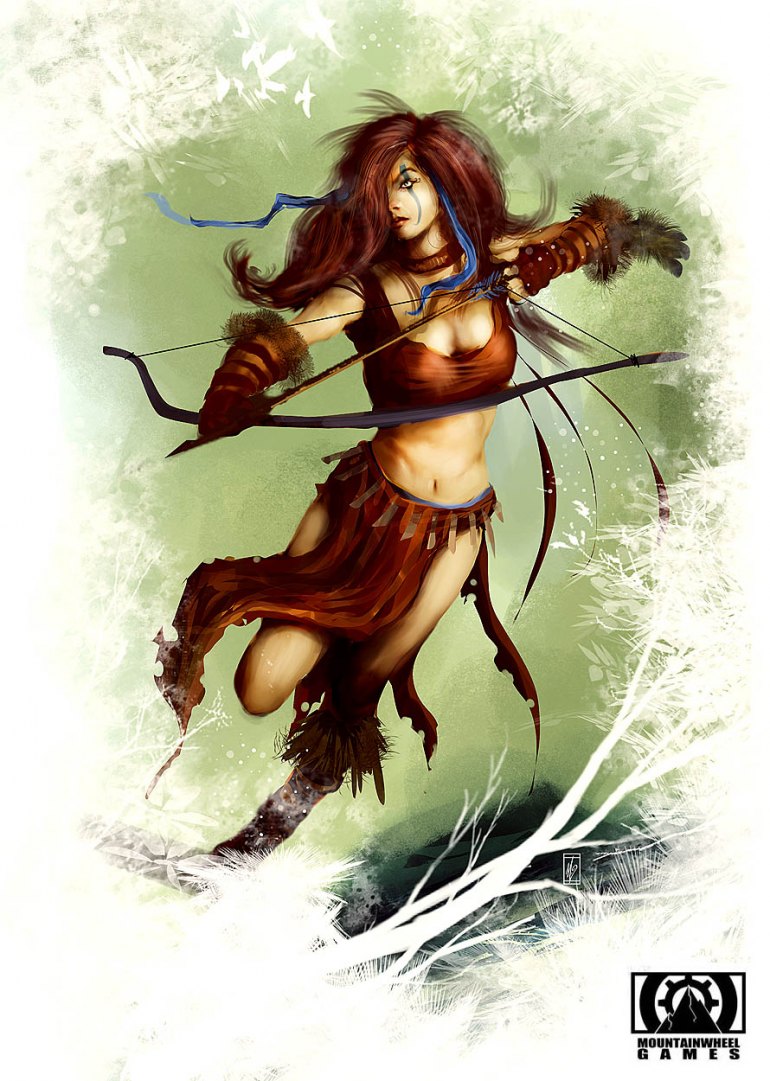 Pros: Fastest running human. Best aim and highest damage with ranged weapons.
Cons: Low health. Weak melee damage. Low armor.
Though the land is mainly ruled by way of claw and tooth and overseen by strength and force, guile, too, can ensure survival. The Ranger of the tribe serves as a small-game hunter and as a scout for flora to forage upon the plains. This arrow-making, bow-toting, surefooted runner can kill at a distance and has many tricks to use against any enemy. With enough time and focus, the Ranger can hit the smallest and fastest of flying targets, or with the right vantage point she can leave bulky and lumbering creatures in resemblance to a bleeding pincushion.
Class Five: Name: Shaman (The Medic Class)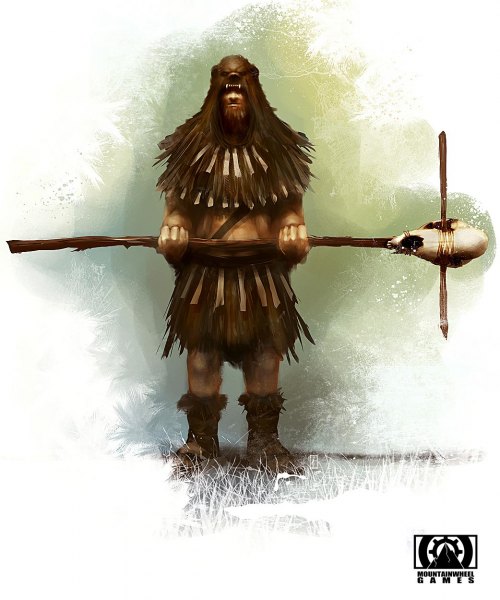 Pros:
Healing and strengthening abilities. Can disable enemies. High fire damage.
Cons:
Weak melee damage. Easy target. Less effective when fighting alone.
In the tribal lives of many, the Shaman was the wise-man, the seer, the doctor and the master of the mystic. Above all, Shamans are adept at using the natural forces of nature to suit their needs. With nothing but herbs and wit the Shaman can support and lead whole groups of people at a time, applying healing concoctions and medicinal plants to wounded members of the tribe, or by spraying clouds of hallucinogenic dust in the faces of enemies or even allies to different effect. Where a shaman's mysticism fails, his clever use of fire prevails.
Class Six: Name: Ubermensch (The demigod Class)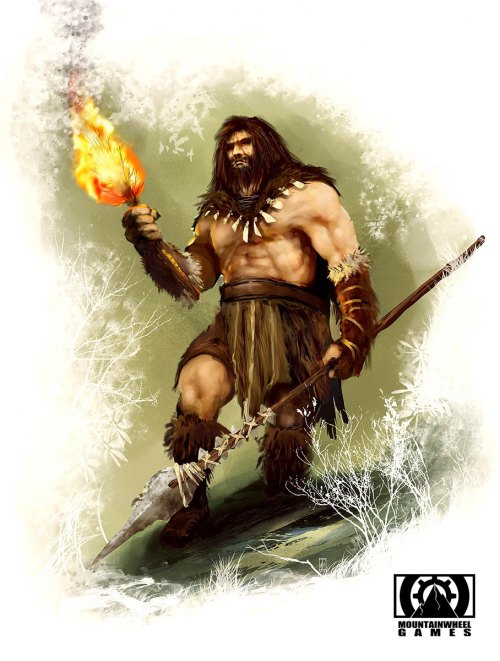 (only available via donation; included in limited edition)
Pros: Exclusive character. Highest melee and fire damage. Can fight against many opponents at once.
Cons: No armor. Cannot use ranged weapons. Cannot be healed by shamans.
Nothing to the common tribesman is more frightening than a wandering killer with gigantism. This massive man has never been given a place in tribe life, and thus was forced to learn the ways of the wilds in solitude. He knows more than the average person, able to wield and create fire, make his own weapons and build and hide a simple abode. With the right tools, the right plan and timing, this monster of a man can kill mammoths in a matter of minutes.

Ambient Track - Mod DB by Adrian Holmes. Concepts by Markus Lovadina. Text by Justin Wilson.
We're also recruiting new developers:
- C++/XML/Lua Coder (network&server, general scripting)
- Level Designer
- Environment Modeler
- Character/Animal Rigging Artist (Autodesk Maya)
- Character/Animal Animator (Autodesk Maya)
Do not forget to like and support us on Facebook please.