Been a while since I last posted something here. I have a little surprise for you, too: a playable StarFire demo! Get it here: Mediafire.com
Or via indiedb

Please check the readme + controls.txt inside of the archive first for instructions. Install by extracting to a folder of your choice (ideally where you have full permissions), then clicking on StarFire.jar to run. Beware of buggy-ness & unfinished-ness! If you encounter problems or weird display, please report back!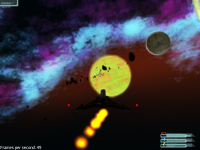 This is still very rough work. I've been working towards creating something playable this iteration and I indeed succeeded to create a very basic simulation. Creating the framework enabling me to spawn items in space (hint: press the left mouse button in the demo) took up most of my time. This eventually is going to enable me to let loot drop on death of an entity (asteroids, enemies...)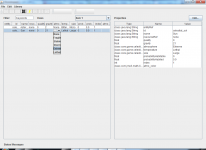 The lack of time efficiency and easy-to-create data for the game has me forced to create this editor which postpones the development of multiplayer a little. The upside is that you, the player, too will be able to create your own content, and that includes ships, weapons, engines, resources, and even celestial bodies.
After my exams are over, I will occupy myself with multiplayer implementation, a basic AI and lots and lots with improving existing features. There's going to be many interesting things that I plan to add, such as overlays to display conditions (i.e. heat, injury, damage), better particles effects for weapons and engines, better sound and much much more.
Thank you tons for tracking StarFire! Peace out :)