Quite some time passed since I last did something for and on SONAR. Many things have changed, I was pretty busy but this weekend I finally got some time to do some changes on SONAR which I think are pretty awesome and improve the game on several different levels.
I don't know when the new version v1.1 will be released, but it will be soon, because all the new stuff is already implemented and there are just a few minor bugs to fix. The changes include some brand new gameplay elements as well as a new options menu.
There were some complaints about SONAR: Orientation is hard, the stealth often depends on luck, the distortion effect causes headache to some players, the fixed resolution and that there is no support for gamepads. All of that is fixed now.
Changes on Gameplay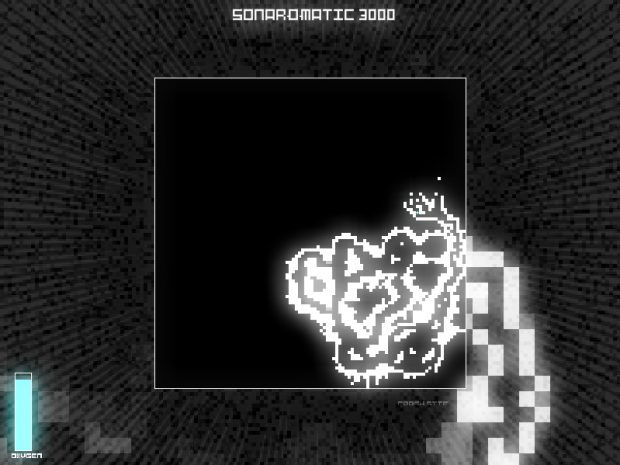 These are the new gameplay elements and changes:
Automap: Yes, there is an automap now. It works just like any other automap you know from other games. I thought deeply about this because it could destroy the whole experience. It does not. It changes it, but adds much to the gameplay. This feature simply makes a whole lot of sense and allows new ways of playing the game which always is right.
Heartbeat: Do you know these moments, when you somehow know someone is right behind you? Your heartbeat accelerates and you become nervous. Catherine has this feeling, too. Whenever you come close to an enemy, there will be a heartbeat sound played. The closer you get to the enemy, the louder and the more frequent your heart pumps.
Improved Rocks: There were some complaints about the rocks being ineffective when it comes to using them to distract enemies. Well, I learned that the fact I mastered using them does not mean the whole system works. The main problem was that the enemies were highly aggressive after recognizing a rock which made them scream which in the end made them recognize you. Now the rock does grab the enemies' attention but does not cause them scream right away. They sure know something is wrong if you throw 3 - 4 rocks at them and scream anyway. So you still have to be cautious.
Level Selector: You can now start from the levels you unlocked previously. Because this would make the whole element about the oxygen pointless (just restart in current level), the ammount of oxygen is altered according to the level number you choose.
Gamepad Support: SONAR now supports gamepads. Tested and coded with an XBox360-Controller. The game really feels right with such a thing.
All in all these changes allow new ways of approaching enemies and circumvent them giving the game quite a new feeling and flow. I had some pretty nice situations attracting enemies with the rocks to a wanted position I got from the map just for my heartbeat going nuts because I ran close to just another enemy. I got so nervous and finally was shocked, when the other one got me, that I literally screamed. I was very immersed in the gameplay because of the new depth. My girlfriend didn't want to play anymore after the heartbeat pumped for the first time, saying: "I don't like games like this! This is to horrifying!" I think that's quite a good sign ;)
Options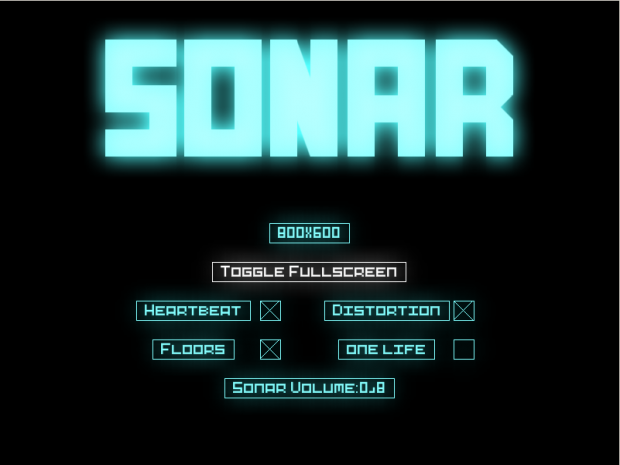 These are the new options the player can choose from:
Screen Resolution: You can now choose from several screen resolutions. There are still only 4:3 modes supported.
Fullscreen: You can now toggle between fullscreen and window mode.
Sonar Volume: Some people said the volume of the sonar pulse was to high. Now you can adjust it.
Heartbeat: If you don't want to play with the new feature, you can switch it off.
Distortion: Allows turning off the distortion effect.
Floors: Turns the floor tiles on and off. This was the difference between advanced and minimalistic mode in v1.0.
One Life: This is for the hardcore gamers. Beat SONAR with only one life! This is fun, isn't it ;)
I hope you like these changes and the new ideas. More of that when v1.1 is released!
Greetz,
J.S.