Hello! After a couple of days of thinking I've finally decided on what will I do when the game is finished.
I am going to devide Shadow Depths in campaign mode and arcade mode.
Campaign mode is basically core of the game. Levels which some of you may seen in the demo.
Arcade mode is going to be just a list of levels which I am going to regulary update and you can complete them and beat your hi-scores.
Small development update:
-some level fixes
-ladder now working properly
-you can now save lost explorers
-you can now pick up gold
-level 3 is almost completed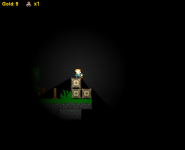 And finally I want to say thanks to everyone who left feedback, you guys are awesome!
Don't forget that you can pre-order Shadow Depths by funding my project on 8bitfunding.com.