Greetings Fellows,
This time, as promised, finaly a game character. Rendaq! If there is one guy who can keep his head cool while bullets and cannon-balls are shooting around his head.

It's him!
On a day free sunny weather and fresh air it took me 6 hours of hard work to design and model this character. But then you've got something! Rendaq is one of a kind. Waving around with his big-ass shotgun, never afraid of anything. If you are on the wrong side and you meet him before diner, I'll be sure you never had a biger problem in your live.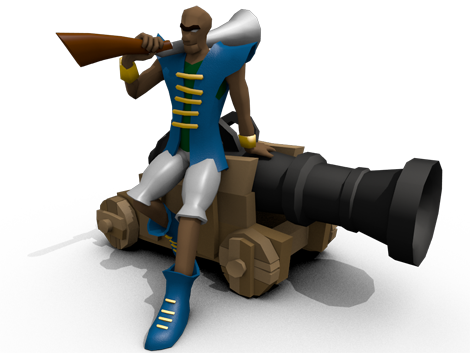 Rendaq how he will appear in the game.
The process
I started this model from scratch, I had a few sketches on paper but not worthy enough to be called concept art. So the main idea was in my head. I began with defining the torso, putting the main shapes about how I wanted the jacket to be from my head in the 3d space. Then I worked from in to out by first modelling the arms and legs. After that came the more detailed parts as the head, the feet and the hands. After giving everything some color I applied a basic rig (skeleton used for animating) to the model to put it in a nice pose. This pose was actually the same as I had in my sketches. And voilà there you have your character.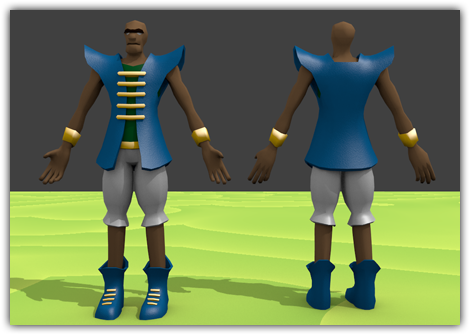 A non rigged view on Rendaq's front and back.
Next up I think I will be working on some envoirement like trees, grass and flowers. So look out for it.
Thanks for your intression!
Greetings,
MrEmjeR