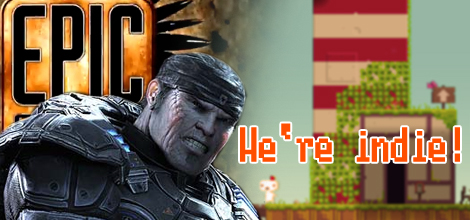 When today's morning I read an article where Epic Games called themselves indie, cup of bitterness overflowed. At this point I decided to write this post.
What is indie, this question was asked many times in multiple places by multiple people over the Internet. But there were no clear answer to this that everyone could agree with. There are as many definitions of indie as many people trying to define it. Everyone's also trying to stretch this definition to fit their needs, as we can see in the example where Epic Games says that they'reindie, the same goes with CD Projekt (The Witcher and The Witcher 2, they're also the biggest games publisher in Poland).
Is it only me that can't stand seeing an article about workplaces of indie developers with CD Projekt's office just after the Supergiant's (Bastion) one?

Some people think that definition of indie is just as simple as the word's that it comes from – independent. Sadly it ain't that easy, or maybe not sadly because then we'd have to search for a new word to call that certain group of developers. If it'd be that simple then EA would also be anindie, why not? They are not dependent on anyone, they're at the top of the ladder. Of course most of indie developers are independent at the same time but not all of them, not all independent developers are indie at the same time too. In the second category I'd put CD Projekt and Epic Games, maybe they're on the top of the ladder and they develop games by themselves (wouldn't be so sure about CD Projekt, it's game developing studio is called CD Projekt RED so they're still below the main CD Projekt company, right?) but does it mean that they're indie? Nope, at least not for me. Did you ever see one of those guys on TIGSource?* Maybe on IndieDB? Can you name a person that made The Witcher? Are they small? Are they easily accessible? Does each employee in those companies have anything to say about the game's final outcome? Would an indie developer call his teammates employees? No, by any means.
Let's get back to the first category now, there are games like Bastion, Super Meat Boy or FEZ. All of them were published by Microsoft in the first place. Does having a publisher over them make them faceless companies that develop AAAgames? I don't think so. Funding or publishing doesn't change anything in my way of thinking and judging. If it'd be like this games funded by Indie Fund would have to move out from indie category. Crazy, isn't it? So, assuming that we agree on this we can easily see that publisher doesn't matter when deciding who's indie. Following this we can see that the fact that CD Projekt published The Witcher 2 by themselves has no meaning.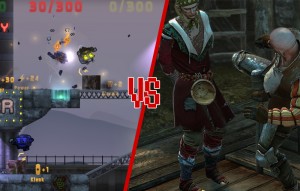 With all this knowledge we can sort developers without any problem. I'm not giving you a simple one-line definition of indie because it wouldn't have any sense, instead I'm trying to show you the whole way of thinking about what is indie and what isn't. The simplest guide to follow in sorting these developers would be some kind of table with some already labeled amount of companies and you could compare the one you aren't sure about to the ones in the table. Is Epic Games indie? Let's see… Blizzard isn't and Epic is more similar to it than to Oxeye Games, right? Seems simple to me (not that it's because I came up with this imaginary table

).
The only think I'm still wondering about is Notch, is Mojang still indie? When they act like a publisher for other indie company? Not sure about it but I don't feel like deciding atm.
I feel like I'm done with this matter for now, cheers.
---
Relevant quote from TeeGee – MoaCube (MAGI, Co-op, Cinders)

Just a few years ago, right after I released my first game and applied for a job in CD Projekt, the phrase "I'm an indie developer" in my motivational letter inspired some laughs among my collegues. Now, the whole CD Projekt claims they are indie as fuck. Seems that there's been some "indie revolution" indeed.
*- even if you did it wasn't anything near to "Hey guys, check out my new project!"