In its first week on Kickstarter, Robots Love ice Cream has received a ton of positive feedback, including features by Atlanta crowd favorite Scoutmob and our all-time most beloved design blog, NOTCOT. Today marked the beginning of our publicity push beyond our immediate circle of friends, family, and colleagues, and we're excited to engage the indie game development community in this process.
Here's a bit more about what we're creating:
Robots Love Ice Cream is an original independent game made with the Unity 3d engine currently in development for the iPad and iPad2 and slated for release to the Apple App Store in 2011. In the game, you'll play the role of an ice cream truck driver defending the galaxy from robotic invaders by stuffing them with delicious weaponized ice cream treats until they explode with joy...because Robots Love Ice Cream.
We've got solid plans in place for how the game will be structured, with designs for specific levels, achievements, boss battles, challenges, and an exciting new gameplay mechanic that allows the player to spin the game world 360 degrees to launch ice cream themed weapons in all directions with the swipe of a finger.

We would love to hear your thoughts on what we've presented so far, and we hope you'll see a reason to join this project as a supporter and help ensure we're able to take Robots Love Ice Cream all the way to publication. We have an amazing team supporting this endeavor and we would love for you all to be a part of it!
Our promo poster (very recently featured on NOTCOT) is an example of the vibrant art style and whimsical content that define Robots Love Ice Cream: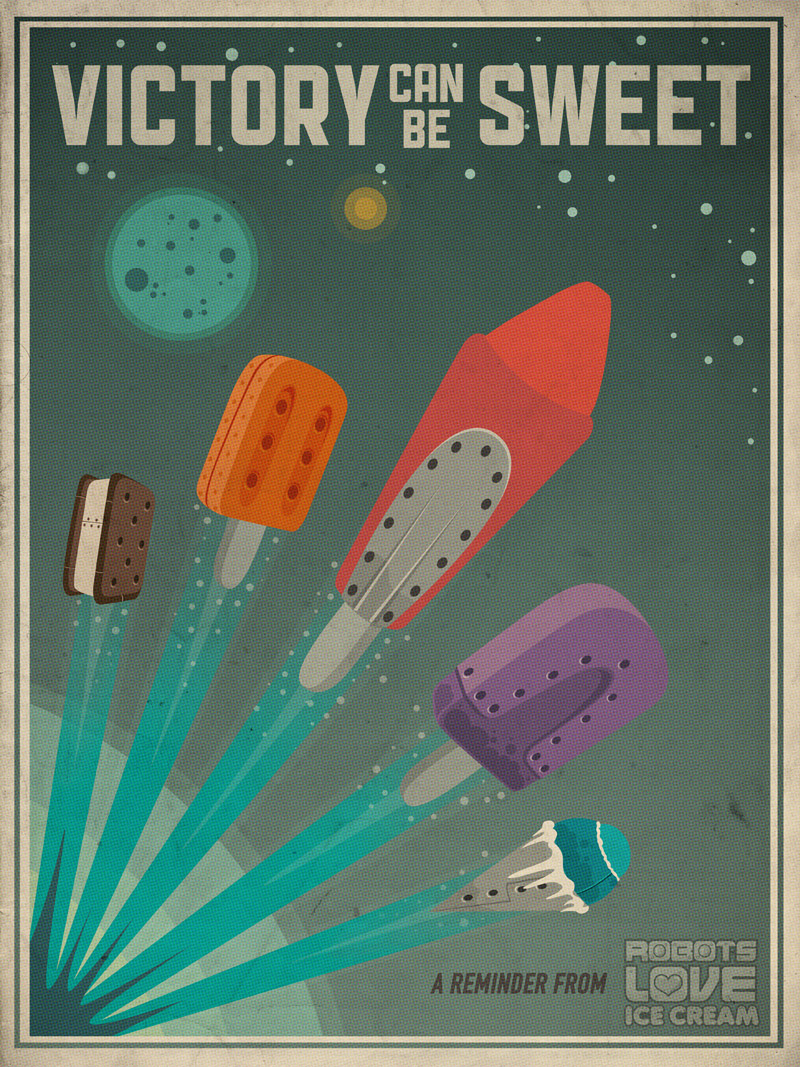 To see more and support Robots Love Ice Cream, visit us on Kickstarter at Kck.st