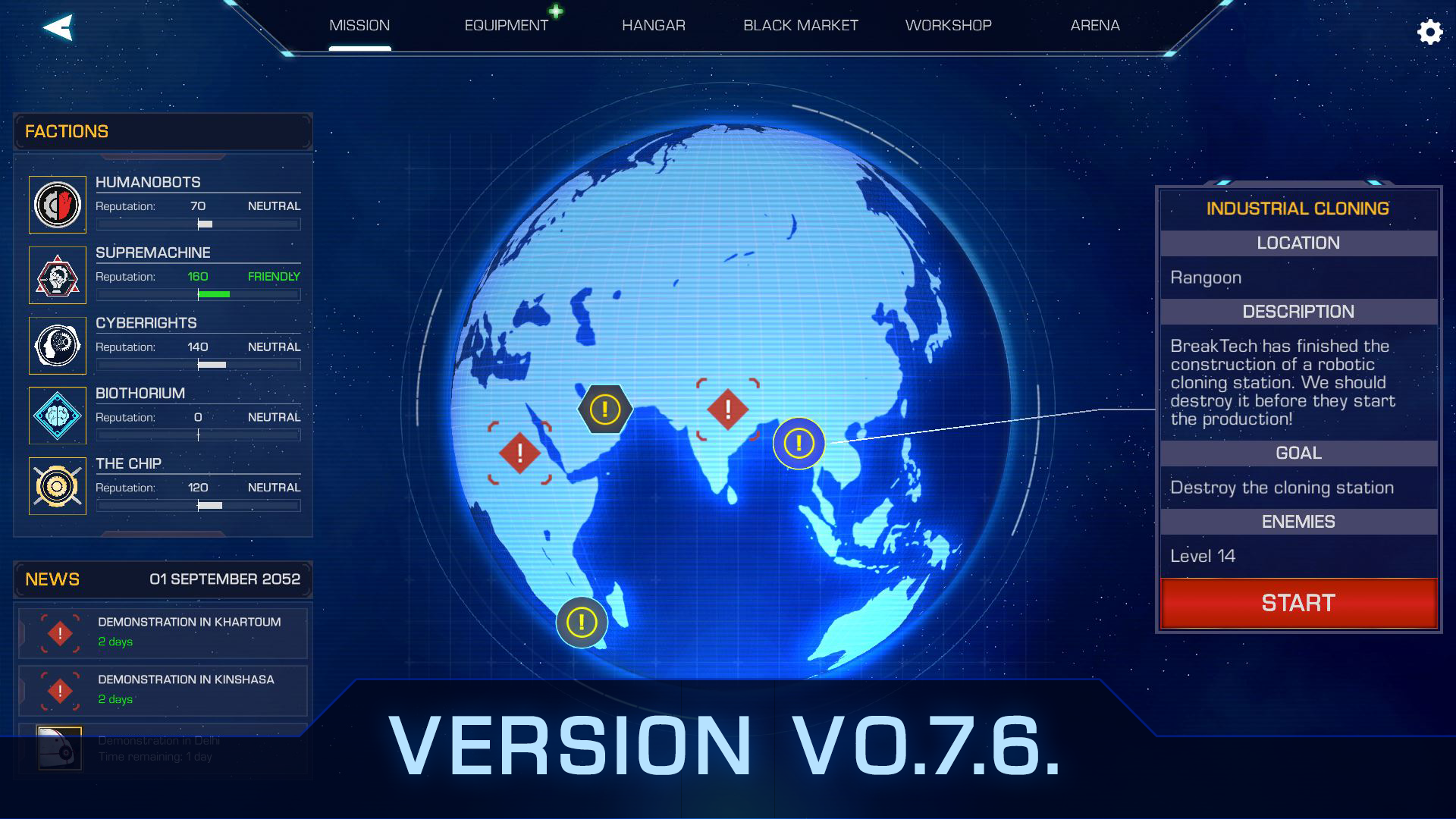 After all the feedback about game balance and difficulty curve we've received from you since last thursday, here are the major changes to missions and enemies level scaling you've all waited for, as promised.

A lot of bugs have been fixed as well, but we are still actively working on the game stability, performance and the blocking bugs in fights if there are still any.
Robothorium Steam Page
See the post on steam

0.7.6

Gameplay, balancing and improvements
Main missions now have a fixed level for Rebellion and Insurrection modes. Players can do them no matter the level of their team. Secondary missions are also always available so players can catch up the level if necessary or if they want to bypass the main mission level.
After completing the first Rescue mission, players will now always have 2 secondary missions available on the world map. One of the same level as the highest level robot in the team and another one lower than the highest level robot in the team.
Missions level is now displayed in the Rebel base.




Secondary missions now have a new circle icon on the map to better differentiate them from main missions.
New robots will be available for sale in the Hangar only after completing the first Rescue mission.
Text added in the Hangar when no robots are available for sale.
When the players' team is composed of less than 5 robots, they will face as many enemies as there are robots in their team. Else, players will face groups composed of 5 or 6 enemies.
Monsters' level doesn't scale up anymore if you level up during a mission.
If you have a team fully composed of level 20 robots, missions will now be scaled to level 20.
Players will now encounter less grade 2 and 3 monsters in Rebellion mode.
The amount of experience granted after completing secondary missions has been lowered.
Items dropped on enemies and after completing a mission have now the same level as the enemies or the mission done.
Attributes scaIing on items has been smoothed out to avoid dropping lower level items with better attributes than higher level items of equivalent rarity.
Structure and Resistance attributes on items have been slightly increased.
Weapons are now available for reforging and recycling in the Workshop.




If players fail a mission, Hangar and Black Market now refresh automatically. Doesn't refresh if players give up in a mission or in a fight.
Robots recruited in a mission or bought in the Hangar are now fully equipped with common items of their level.
Arena is now locked in Rebellion mode to prevent issues with the Skip fight button and to avoid players being advantaged by this option given to them to grind more easily and faster in PvE.
CyberGoliath's Nuclear reactors skill now also deals damage in addition to its previous effects.
Items prices are now scaling depending on their level and rarity.
Price ratio divider when selling items at the Black Market and robots in the Hangar has been reduced from 4 to 3.
Blur from Twitch vote window is now more transparent to better see the elements and actions available. Special mention to "Big Boss", aka PDM_Oblivion ;).




Many UI polishes and improvements.


Bug fixes
Fixed an issue where the CyberGoliath encountered in the First trip into the city mission didn't have the correct level.
Fixed an issue preventing the last exploration dialogue after defeating the CyberGoliath in the First trip in the city mission to be displayed, preventing players to finish the mission.
Fixed an issue with R.E.P.A.I.R.'s Preprocessing talent preventing Penalties to be removed correctly and reducing turn duration on Status as well.
R.I.O.T.'s Loss of control and Resounding sound talents now correctly reduce Overload generated by Provocating shout instead of increasing it.
Fixed some issues preventing the Steam achievements to be completed correctly.
Fixed an issue preventing the skill's Overload increase effect in talents to work correctly.
Fixed several issues that were causing the fight to be blocked in some situations.
Fixed an issue where basic attacks used for free like S.C.O.U.T.'s Drone OP Status effect or Z.E.R.K.E.R.'s Forces optimization talent were also reducing Overload.
Fixed an issue where Z.E.R.K.E.R.'s Forces optimization talent was skipping other fighters turns when it was triggered.
Drag and drop has been disabled in the hangar.
Fixed minor issues preventing the L.A.D.Y.'s Postures effects to be correctly considered as permanent Status with no duration.
Fixed an issue not generating random robots classes correctly in Rescue mission.
Fixed an issue preventing the effects from the L.A.D.Y.'s skills to be picked for random Bonus or Penalty application by other fighters' skills.
Game over screen will now be correctly displayed with a delay of 1-2 seconds instead of 5.
Fixed an issue resulting in Technomed's Thorium flask to bounce on dead enemies.
Fixed a bug preventing the Twitch vote to work correctly with no votes from the viewers.
Fixed dialogs missing in exploration in The chip's diagrams mission.
Fixed an issue allowing players to indefinitely recycle the last item in the list.
Fixed several typos, texts missing or incorrect texts.
Fixed an issue where attributes and skills tooltips were not refreshed correctly when upgrading a talent or resetting talents on a robot.
Fixed an issue allowing players to leave a blank name when renaming their robots.
Fixed an issue where using the Skip fight button was granting the experience, the drops rolls and Rez twice.