UPDATE: Winners have been decided and will be emailed soon. Congrats to the winners enjoy your copy of RIFT.
Our good friends over at Trion the creators of the awesome RIFT MMORPG are giving 10 lucky members of the ModDB community a chance to win a copy of the game! Entry is simple, just follow the directions below to submit your entry! This contest will run until May 31 2011. On June 1 the ModDB team will randomly choose 10 winners from all complete entries received, and mail them all a full copy of the RIFT game. So when you sign up for the demo account make sure to enter your mailing address correctly!
How to Enter:
1. To begin, download the free trial demo via the link below. Be sure to enter you mailing address correctly, as winners will be contacted via email.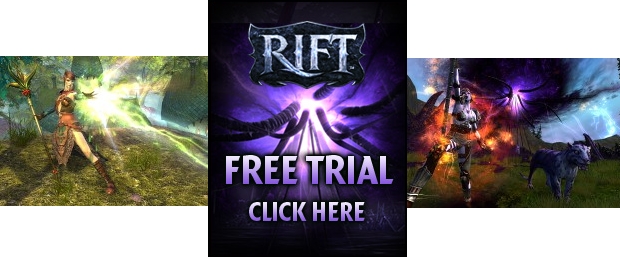 2. Based on a few moments of game play you will be able to answer both of these questions, for extra entries. For each question you answer correctly you will get one more entry into the contest (yes we will actually put your correct answers as their own entry when we run the random generator to pick the 10 winners).
Which of the following is NOT a plane in RIFT?
A) Air
B) Death
C) Stone
D) Fire
Regulos is the leader of which group?
A) The Guardians
B) The Defiant
C) The Bloodstorm
D) The Abyssal
3. For one more bonus entry, tweet this post.
4. Finally, please email awards@moddb.com your name, mailing address where we should send the game (digital available on request), your optional answer to the two questions above and URL to tweet (if posted).
Good luck to everyone out there, don't forget to follow spread the word on this fantastic contest!