Originally my game was going to be 40 levels, 10 in each world of Earth, Air, Ice and Fire... But then I added 20 levels more (15 each) to make that 60. Great, but I realised that by giving them all on EASY mode, the player had no real reason to go back and play in NORMAL or HARD. I also realised that finishing each level of difficulty offered little reward to the player.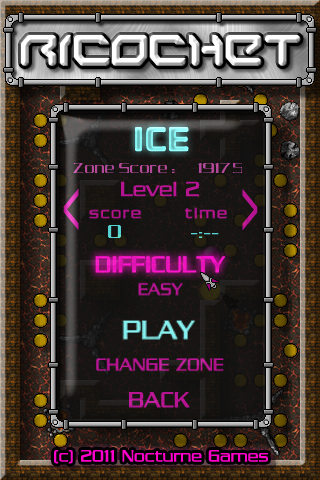 So, I have now changed the playing mechanic to unlock five levels each time you finish a difficulty! So finish Easy and you go from 20 to 40 playable levels and finish Normal gets you 20 more! In this way I hope to reward the player for their perseverance and also give them a reason to go back and play all the previous levels again but this time on the new difficulty.
This will also give a bit more spice to the Quick Game mode too, as it relies on the difficulty settings to select the level elements and so when you get to Hard, you get more things in the levels that are generated. This means that to get the most out of the Quick Games, you really should play through all the levels in the Main Game first!