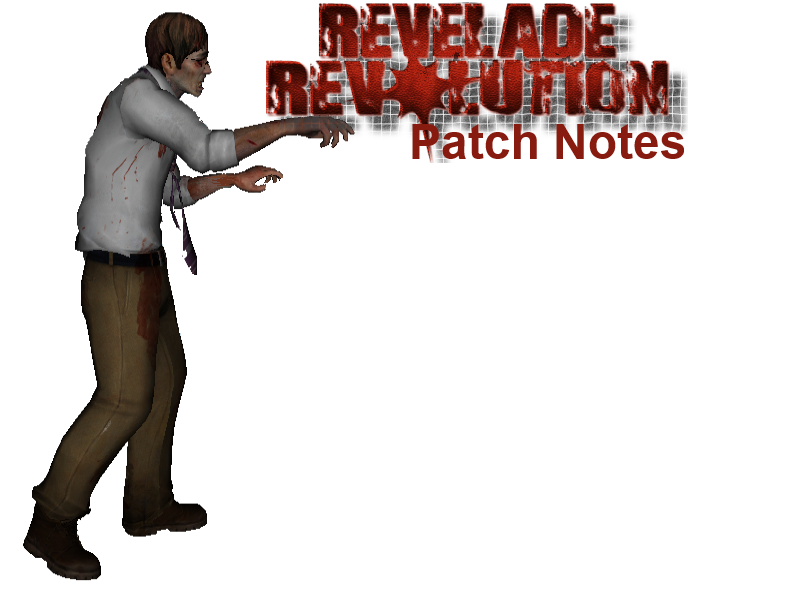 Revelade Revolution 0.1 Alpha 3
Added Zombie themed HUD:
Added zombie player health indicator;
Added "eye rot" zombie vision;
Fisheye view for zombie movement;
disabled in infected view: radar, crosshair;
forced full body image for zombie player;
Menu Updates:
Fix master gui, fixes #46. Open multiplayer gui when connected and pressing ESC. Remove unneeded debug echo.
Add music options gui, add hostname completion to /connect, add some more translations.
Directly go to crosshair selection gui when you click on crosshair in the customize gui.
Better name editing, add options button to setup gui.
Fixed:
Fixed missing team skins for crossbow and flamethrower.
Fixed crossbow not scoping
Fix up entities in martial law.
Fix changing weapon on no ammo, lower the change weapon wait.
Added
Add missing serversPerPage setting.
Added New Bridge map by SniperGoth as well as updated his Grave and Hospital maps.
Add assaultrifle projectile by crapimdead, closes #26
Auto translate menu items, add translation capture.
Add minwidth parameter to text rendering, add better spectator icon closes #20, allow recursive guinoautotab, better menu alignments, footer with back button and advanced options, better error printing on resetvar.
Go to votes when having voted, better voting decision.