What Greenlight means to us
Now that Residue has been on Greenlight for a few days and the initial rush is starting to wear off, what have we learned? We wanted Residue to be on Greenlight as soon as possible, we thought it fit neatly into our schedule as the debut trailer would be done right about the time Greenlight would launch. We knew we were throwing ourselves into something we had no idea of how it would work, but decided to just go for it and see what would happen.
Eleven thousand unique page views later, I don't think we're in any position to complain about discoverability, which apparently would be the hip thing to do. We may still be far away from being published on Steam, but being among the top hundred games (we hit that magical 1% today!) on Greenlight without any prior press coverage or pre-existing fan base and, let's face it, a game without a single zombie in it, is as good a reception as we could ever have hoped for.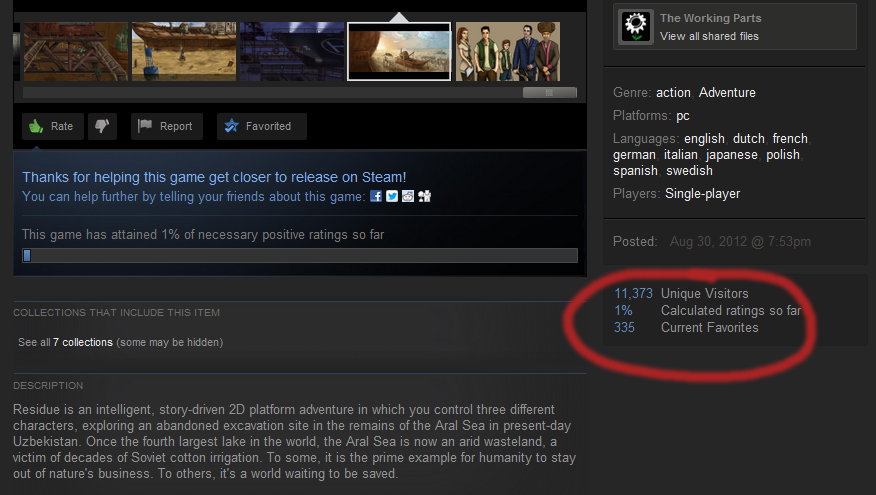 Thank you for that! Unlike most successful Greenlight projects, we're just getting started. Some don't think that's how Greenlight "should" be used, but I rather enjoy the hand we've been dealt. This is going to be a long race, and we hope you'll stay with us to see it through. We have many aces up our sleeves, there will be more trailers, a demo, a beta, and releases on a bunch of other portals before the Greenlight dream can become a reality.
All the while, we will maintain a blog here on IndieDB, where we'll answer questions, discuss development issues and creative hurdles, spread insights about the Aral Sea and the minutiae of the game experience we're crafting. Hit follow to stay updated, and if there's anything in particular you want us to show, just say the word!
The legendary fisherman
For starters, I'd like to recommend this Al Jazeera documentary about the Aral Sea. Not only because it explains our setting better than we could ourselves, but also because in hindsight, the self-proclaimed legendary fisherman Kazhibai Zulkarnayev, who appears in the video, turned out to be a major inspiration for one of our main characters. I watched this video today for the first time since writing the script, and my jaw just dropped at how much of Jumagul's style, sometimes even the content of his dialogue and so much of his personality, comes from my impressions from this video.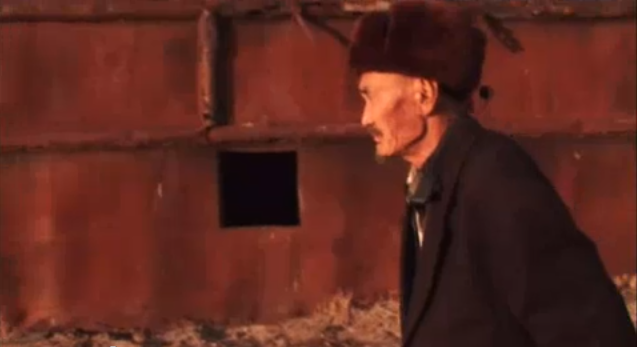 We all love Jumagul as we've gotten to know him during these years of development. Between seeing our characters written, drawn, animated and voice-acted, we start to develop an intimate understanding for who they are. The best thing about Jumagul is that he's the kind of controlled person who maintains his dignity at all times and must appear to be in control of any situation, even when he's not. That's relatable, but it's also very entertaining to make fun of, and we have done that quite a lot in the game, like you poke fun at an old friend. It feels weird to suddenly realize that this much of him is probably based on our impressions of a real life person. Can't help but wonder what Kazhibai is doing now, if he's still alive out there. Though with the average lifespan around the Aral Sea having sunk to about 51 years, it's not entirely likely. Maybe through Jumagul, in a sense, he will live forever.
Enjoy,
Hugo Bille, game director