All right, I have good news, and bad news for you guys.
The good news is that:
-I'm already finished the WIP of 2 multigunner turret types. They aren't final but it's a solid start.
The bad news is that:
-Lots of EQAO testing and homework will probably push me from doing much modeling in the month of May.
And finally for the media section. I present to you the... You know what, ignore the fancy stuff and I'll get straight to the pictures.
The original multigunner turret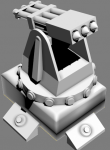 and shotgun multigunner turret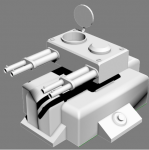 There aren't final, as I mentioned but it is undecided weather the turrets are gonna be presets or that they must be controlled by the players, when inside.
Recruitment:
Sad to say, we did not get any new members for the team (except for Lantor, he is still being tested for his "skills").
Again, we are recruiting just about in every field, so if you want this game to be released into the public, join today!
To join you must
- be able to show a sample of your work
- commit (not join and the run away)
- be mature (not insulting other team members)
- has time
- can finish within a reasonable amount of time (not spending a whole year on something as simple as a molotove cocktail bottle)
If you can demonstrait all those things, please PM abcd5799.
And that's all for this update!