Introduction
Hey guys, it's been a while since I last posted any news. The reason for that is I had a heck of a lot of college work to do. Now, I don't. I have a 10 week summer holiday, two weeks of which are gonna be spent in France, at which I should be able to write up a nice storyline and get some concept art done for my return. Reactor 17 has come a long way since it was first introduced to the Sandbox community, I mean... My mapping skills have increased dramatically since the first maps, and the Sandbox engine has also improved, supporting a new RPG mode that is absolutely beautiful. Anyway, enough of the introduction... It's time to get on with the news post.
Mapping and Textures

Recently, I finished working on the Dark Mansion map, which is actually four maps combined into one. The reason I combined all four maps is due to me wanting to be able to see the Village and its surroundings through the windows of Dark Mansion. The view from one window allows you to see the entire village, and, although you are unable to access it at the moment, the top floor of the church tower allows a view of the entire of the outlands. The maps will later be split up, allowing interaction with doors to lead you to the next map or chapter. As of now, I'm working on Destiny Mines. This chapter is relatively dark and requires a lot more detail in comparison to the Dark Mansion map(s). I'm relatively proud of how the signs have com out too, using Adobe Fireworks CS5 to create the images and using the Rage Itallic and Chillerfonts, then using "SS_Bump Generator 5_3" I managed to create the required texture modifiers that would cause the text to "Pop Out" of a flat surface. As you can see from the images below, the effect comes out pretty nicely.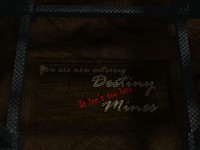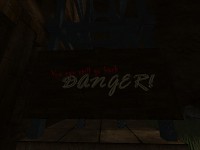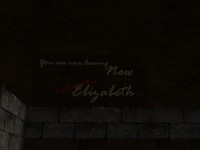 Models
Currently, the models in Reactor 17 are still stock with Sandbox. This will change pretty soon as I'm also working on a load of Weapon models for RPG mode. Once I've animated them and exported them into Sandbox, I'll send them over to Hirato (Lead programmer for Sandbox) and he'll hopefully implement them into Sandbox. As for Environment models, I'm adding those when I feel that they are needed, at the moment... I'm leaving all the models out of the maps until I'm happy with them.
Sounds and Music
Thanks to Cork279, we have some AMAZING music for Reactor 17. Hopefully, he has some more for us, and, if they're like the rest of the tracks he's made, they're gonna be epic. The sound effects, however; will be either paid for or downloaded from any sound effects providers. At the moment, I don't know where I can acquire any of these from, if any of you guys know where to get any, let me know and I'll go check them out and make sure you're mentioned in the credits.
Story and Gameplay
As of yet, there isnt much of a story. As I've been making it up as I edited the maps. But, the beginning and ending of the story will remain the same as that of the original with very few modifications. As for gameplay, We're looking at a couple of hours, maybe more. Hopefully, more that Half Life 2. I'm attempting to make the game as entertaining as possible, without losing any focus on the maps and models in the process. Before, I was rushing the entire thing. Now, I dont care if the game takes 3 years to make, I'm gonna capture as much gameplay as I can and retain the detail.
Last Hurrah...
Okay, so, that concludes this news post. Hopefully, I've gone through enough detail to cover any or all questions you guys had. But, before I close the news post... I would like to thank the entire Sandbox Community for being so positive throughout the development of this game. I would also like to thank my Development team and the Sandbox Development team; for standing by me at all times, no matter what happened, and even when Reactor 17 seemed to be dead, and even taking some of the maps for a test run when I needed it. And last but not least, I'd like to thank ALL of you guys who are watching this game. Even when faced with dissapointment, you guys stayed and didn't click that "Stop Tracking" option in the Profile section for the game. All of you, are amazing. Thank you all!
Until next time...