Parkasaurus Update #020 : Steggos coming home
We sent our Steggos out into the wild and they've found their way back. That's an analogy for life, and also an analogy for sending out the Parkasaurus tutorial for a little feedback playtesting. At the moment we're heavily looking at the game after the tutorial, so days 7+ of in-world time. We see so many different directions Parkasaurus can take and look forward to having people help out with those decisions.
And of course, as a reminder in 2 weeks, we're releasing into Early Access on September 25th (eep!). Thanks to everyone who has been helping spread the news about Parkasaurus and getting our Wishlist numbers up!
Update 020 Topics
Expanding the Family
Steggos Coming Home
Watching the Hatch
Valley o' Dinos
Expanding the Family
The size requirements for each exhibit is dependent on the number of dinosaurs that are living there. If you add a new baby to your dino family you'll need to increase the exhibit size to keep everyone happy. The easiest way to accomplish this is to add the extension fence first then remove the dividing portion (otherwise guests might get snacked on). The best part though is watching the baby & parent bonding at the end. :)
Steggos Coming Home
What can I say? Sometimes I find it fun to just create a massive Steggo herd to come storming out of the mountains onto our poor little food court village.
Watching the Hatch
Although not necessary I like to make an elevated enclosure around a hatching dino egg – like this little Tric. Oh, and to put a front row seat right in front of it. I'm very excited to see what other ideas people come up within the game.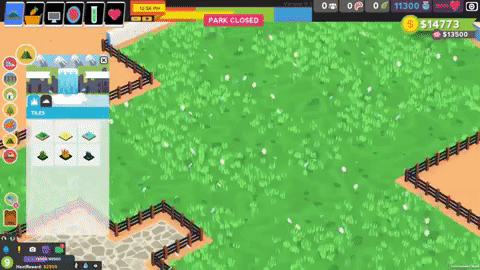 Valley o' Dinos
We have a random terrain generation tool for the game that we will likely include for Early Access but keep it as an experimental feature until we have more time to smooth out the kinks. If people really find this fun we also can start to integrate it more into the game. I find the feature really useful for creating fun scenes like my Valley o' Dinos.
Bonus
A little dino snuggle:
Gotta upgrade those toilets: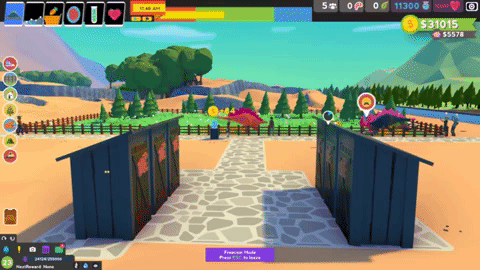 Parkasaurus only happens because of your help
The two of us are trying our hardest to get the Parkasaurus word out to the interwebz, and we see all of you helping out! Keep it up! Tell your neighbor to Wishlist us, get your boyfriend to follow us on Twitter or get your boss to post about us on reddit or your company forums. This is all such a big help to us. Thanks. xoxo
Here are a few ways to follow us:
Disclaimer: Any crazy features we write about might change by the Early Access version