I sorta come from a filmmaking background you know (or maybe you didn't know, but now you know :) ). A great filmmaker said once "what an effects shot lacks in perfection, make up in style." Well, this could also be applied to games, in a way. On this post I'll be discussing a little bit about that.
While it's true we are using the Unreal Engine, it's also true it takes way more than the click of a button to get whatever game to look like Bioshock Infinite (which looks beautiful, BTW). You also happen need a decent amount of resources (which we don't have since we're just a handful of people). So it's kinda a matter of spending more time on the visual aspects, and maybe risking that the game may even "feel dated" by the time it's released, so...
And you can also add the fact that we don't want Parasite to be another game copying the GOW or Samaritan look "because it's technologically cool" (while some UDK users may be happy to "push it" that way, I am not). Parasite should have an identity of its own, even if that means staying away from the "technologically cool visual clones."
Back to what Robert Rodriguez said, make up in style. I began to wonder about looks and stuff. While working on that, I paid closer attention to Dungeon Defenders (by Trendy), and while the toon look is not exactly something that completely fits Parasite, it gave me a starting point.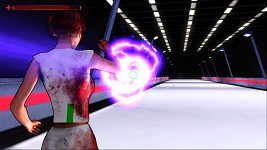 So, I took the post process chain from Dungeon Defenders, changed a lot of the stuff and ended up with this. The most obvious one to tweak is the one that controls the black outline, as well as "how much" of the contours it catches. The chain also lets you set how shaded or flat the objects look, and how the diffuse terminator behaves.
If you check the images titled "Kinda-testing a sorta-illustrated look," you'll see the outline can be a pita since it shows through particle effects (which sucks), so it's a matter of tweaking it, or being more selective on what objects display the outilne. It's also a matter of tweaking the contrasts and highlights more so the game doesn't end up looking flat.
Other thing you will notice on one of the images that bloom should be either lowered a lot, or even killed, since it looks extremely bizarre (or maybe just soften it a little, but my vote goes for deletion).
There's still a lot of work before we get somewhere, and there are other things that need to be tested (including stuff I want to test on the flashbacks she gets during the game) but that's something that'll have to wait a little longer :)
See you when I see you.
Sergio.