I've made some major changes in gameplay since the last progress update.
---
Tiered Haunting is a system I created that limits certain hauntings to certain days. Every time you sleep (which charges your battery) the game progresses one day. Every day unlocks increasingly intense hauntings. This doesn't mean you can experience everything in one playthrough, though. The dynamic haunting system is only diversified and enhanced by Tiered Hauntings. This will allow MUCH more replayability, uniqueness, and challenge. I've also added an End Of Game cutscene. Without spoiling anything, I'll just say it's intense. The Attic and Storage Closet have also been completed.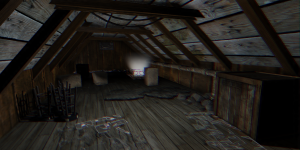 ---
Changelog So Far:
Removed jumping.
Fixed most of the control issues.
Replaced what was left of the UDK default HUD.
Added in new menus.
More story content (backstory).
Modified most of the hauntings.
Added Trophy UI popups.
Made sleeping more interesting (you'll see what I mean).
Fixed Hell On Earth trophy.
Added a useless weather system (adds atmosphere, rain can be visible from the kitchen window sometimes).
Improved the camera shader.
Finished the attic.
Added Tiered Haunting system.
Added UI tips that give more direction (battery is running low, go sleep to recharge it, etc.).
Finished the storage closet.
Added strange apparitions.
Added location names.
Added dates to be displayed after every night of sleep.
Added TV scare.
Added end of the game cinematic.
Added settings menu.
Fixed various crashing issues.
Removed slowness on the stairs.
Tweaked volume of certain ear-splitting events.
---
My goal is to release the game by Halloween 2012 (October 31, 2012). If it gets finished before then, I'll have to release it earlier. When the game gets finished depends heavily on your feedback from playing the betas, so please comment on them! Thanks!
HELP ME RAISE MONEY FOR PARANORMAL: Kickstarter.com
The Kickstarter project will help fund the game's development, production, PR, and publishing. I intend to release Paranormal on Steam and/or Desura, but I can't do it without your help! Thank you so much!