We are still working with the development of Orbital Gear and getting a lot of input from the Beta. Although it is still some work left to do until we are ready for release, the basics are in place.
In the newest release of the beta we finally added Orbital Warfare, our team based gaming mode where the objective is to destroy the opposing teams base. This can be done either by killing enough opponents to charge up your super weapon, or by destroying the opponents base with your standard arsenal of weapons.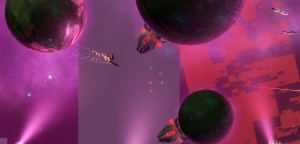 Apart from Orbital Warfare we have also been working on some other cool features that will add to the gameplay in general, such as the ghost planet shown here:
We send out batches of new beta keys from time to time, so sign up here if you want to join in on the fun!