Dear Miner Wars Fans,
I must confess, I am in love with the music our team has created for Miner Wars 2081! So I've decided to share it with all of you. We've woven it into a complete soundtrack and I must say it's epic, heroic, and glorious! Not to mention pretty damn sweet.
Check out the demo: Youtube.com
Or just buy it now! Minerwars.com
Experience the year 2081 from a whole new perspective through this beautiful soundtrack, handcrafted by award-winning composer Karel Antonin, along with Marek Mrkvicka. Be swept away on majestic space flights. Experience the chill of the deep space void. Listen to the songs of lonely space travelers!
Bonus track: The Fourth Reich
The soundtrack is soon to be available on iTunes and other music delivery platforms.
Perhaps you remember our first pre-alpha soundtrack made by the collaborative effort of four different composers, Dan Wentz, Artimus Bena, Slobodan Stevic, and Jeromie Esterline? Don't worry, it's part of the package, too – just in a separate folder.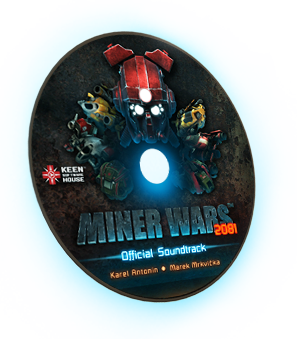 Facebook Poll – Vote for the best song!
Join us on Facebook and vote for your favorite song: Facebook.com
Hint: if you don't want Nazis to win, then DON'T VOTE for song named "The Fourth Reich". On the other hand, if you find Fourth Reich interesting, make sure to support them! They need your love.
Downloads
- Demo: Youtube.com
- Cover download: Cdn77.minerwars.com
- Artwork download: Media.moddb.com
Buy Miner Wars 2081 Official Soundtrack Now! Minerwars.com
Best Regards,
Marek Rosa & the Miner Wars Team