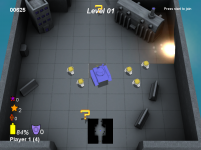 The Windows and MacOSX 32/64-Bit builds of the Tank Crush game dated 13th January 2012 are bringing in quite a few new features which make the game much more of a challenge and also push the player's skill and coordination requirements even further!
New features added for the Test Build 13.01.2012 were:
- Added upgrades/power up handling for players based on shop purchases for shots, speed and power. Still missing are the features cannon and smart bombs and their shots ingame, though they can already be purchased in the shop inbetween levels.
- Added players spawn blinking.
- Added players hit blink.
- Added level dependent difficulty. This manifests itself as increases in enemy speed and damage and forces the player to upgrade in the shop to stay ahead of the enemy.
- Added minor clutter in enemy bases.
- Added hint system and hints for starting level.
- Harmonized placeholder art & level structure for better media creation, screenshots, consistency.
- Fixed bug - The repeatable level-quit-and-continue-game ativitity to exploit collected items in each level (stars, 1UPs etc.)
- Misc. Bugfixes.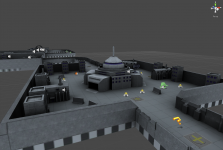 Last week, Test Build 07.01.2012 added the following new features:
- Implemented base access and loot grab.
- Added base rush sections in levels 4,5 and 7.
- Created new building type: Round building.
- Created base grab loot: InfoPad.
- Created basic crate for base interiors.
- Misc. Bugfixes.