KarBOOM's still alive
That's right, it's still alive and kicking. I'm sorry I haven't released a new update in more than a month. It's not due to laziness and has very little to do with university getting in the way. Allow me to answer some imaginary questions.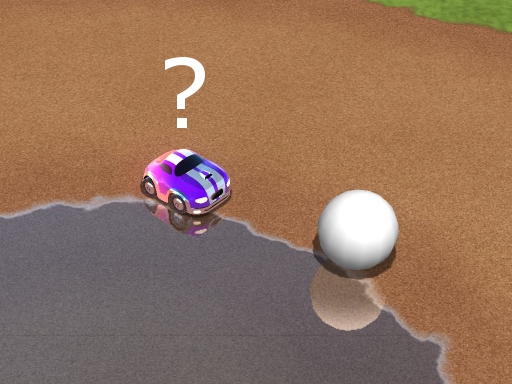 Purple-white-stripes has no idea what to do about this spherical object.
So what's with the delay?
I'm working on a new collision detection system for KarBOOM. It's nearly there, I think. But it has felt like it's nearly there for a while now.
If it ain't broke, don't fix it!
Well, it is broke(n). KarBOOM handles collision detection on a very specific case-by-case basis -- there's a function for car-car collision, one for car-barrier collision, one for ramp collision, and one for car-pit collision. It's ridiculous. It has worked so far, but is only going to get more complicated with some upcoming features:
Car soccer. Soccer balls aren't cars. Goals aren't cars.
Race mode. Circular tracks aren't enough for race mode to be interesting.
Level editor. Levels are going to get a whole lot more complicated than they currently are, with all sorts of weird level shapes possible, and hopefully a slew of unique special obstacles.
Implementing all these on case-by-case bases would just be a ridiculous amount of work. It'd make much more sense to have one generic solution to collision detection. Once this is implemented, the actual physical response of the cars will require very little change to the code already governing their interactions.
Why not use Bullet or [insert third-party physics engine here]?
In a general sense, KarBOOM is not very physically accurate, and that's part of the fun. Some third-party collision solutions are difficult to separate from their built-in physics. Even for those that aren't, online play will be a very different beast to deal with. KarBOOM's collision detection system doesn't need to be amazing, and I figured implementing my own generic system would be more straight-forward than getting a third-party solution to work with the engine I use (which has built-in PhysX, but closely tied to PhysX's physics) and KarBOOM's online multiplayer.
Oh okay, I understand. Keep up the awesome work!
Thanks :) I'm really eager to get a new version out. The next version will likely be very different to what's already out -- perhaps some sort of physics sandbox for those willing to stress-test my collision detection and physics once it's ready. I'll also release an update that's more like the current format for those who just want the same game with more features, of course.
Keep following me here and @JibbSmart on Twitter, or poking around the KarBOOM forums. Suggestions are still, as always, welcome and encouraged.
I don't know how long this will take to finish, but hopefully it will be working and robust/efficient enough for play soon! Thanks for the support!