It's that time of year again. The stores are plastered in mistletoe and candy canes, in most places the temperature is dropping, and we're all eagerly eying video games to snatch up and play over winter breaks.
So what kind of game experience would Iron Grip: Warlord give if it didn't bring a little festive cheer of its own! No, we're not talking Santa hats and snowflakes, we're talking new units for you to blow to smithereens - the best kind of gift we can give any gamer!
These new units will be coming in the form of a patch. The December patch will be coming soon, and it will contain three new units as well as a few other tricks. This patch will be available free to anyone who has bought Warlord, but will not be reflected on the demo unfortunately. You can always get your copy at our webstore if you haven't already.
Today, as only appropriate, I'm going to let you see one of the new units. This guy may not exactly be someone you'd want to sit and open presents with, but he certainly will add some depth in the battlefield.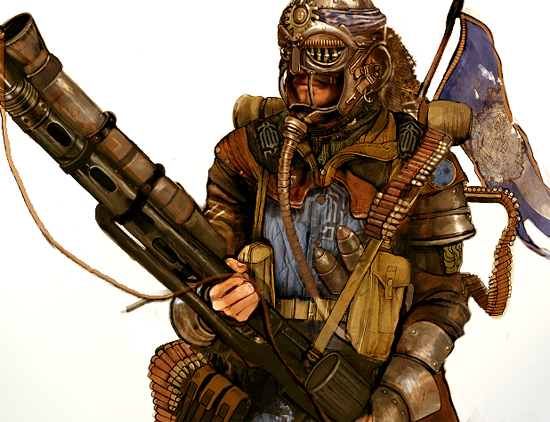 This man is a religious zealot known as a Confederate Templar. The templar is part of the Confederate religious order within the Fahrong armed forces; they are normally kept out of the conflict, acting as priests, unless the situation is bad and requires extreme measures to push through enemy defenses.
The Confederate Templar is equipped with a modified heavy machine gun turned to be able to be carried while firing, as well as a modified rocket-propelled grenade launcher mounted on top. As briefly hinted above, the Templar is dual-purpose as after combat-operations have finished they take part in religious conversion efforts.
They can take a lot of fire due to their armor, yet aren't trained as well as the Herrad legions in swarm tactics so often operate in groups amids the conscripts to boost morale and function as heavy-armor shock troops.