So, since the last update, i've been working quite alot on new levels. One were almost dont, and is now finished, and i've almost finished working on the fifth level - Miniature.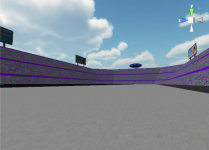 The First level i've finished this week is the biggest, but also the most fastpaced one yet - Raceway.
Previously, you've been moving at a max speed of 8. Raceway lets you drive all the way up to 25 speed. The level layout is really simple - It's an oval raceway, with a few other cars racing along with you.
I did however have to do a few updates to the current checkpoint creating code. It now supports spawning checkpoints in a specific loop-able order, rather than at random positions. So theres no need for U-turns in this level, when the next checkpoint spawns behind you. Additionally, i made a new version of the Insanity giving pills. Instead of pills, it's two flags. Driving in between them will add insanity just like the original pills.
I think i've learned alot about which levels are fun, and which are not. From now on, i am going to make the levels alot more open, bigger, and more linear. Instead of forcing the player to turn around at times, i'm going to make some levels alot more lap-based. Normally i'm against linear levels, but it works alot better in Racing games, i've come to admit.
All the levels i've made so far are under the "Arena" type. I'm still not sure if i'd like to call that type of levels for Arena levels, so if you have a better name, please let me know!
I am going to make alot more Raceway-like levels in the future. I've already gotten quite a few ideas.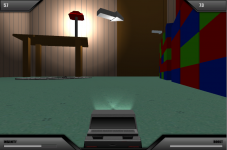 Now - On to the second level i've made this week - Miniature.
This level is probably the last "arena" type level i will be making. It's a standard level, works a bit like the Metropolis level, although it plays alot faster. I know the setting is pretty cliché, but i couldn't help it. Micro Machines/Revolt nostalgia and such.
Thats it! If you have a better name for Arena type levels, please let me know.
I will probably release a PC/Mac build earlier than i expected - Before i upload a Web version.
Atleast when i think it's ready for the public.