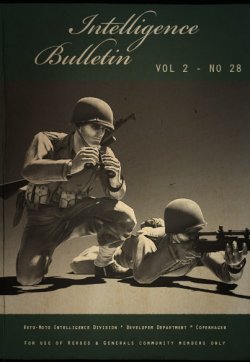 As you might know, we have introduced a survey, which players waiting in the Beta-queue can fill out in order to jump to the front of the queue. The data we have collected so far is very interesting and we'll start to analyze it a bit deeper in the coming weeks.
When you start developing a game you have certain expectations to which kind of players (age, hours spent on gaming per week, how hardcore they are, etc.) will be interested in your game. And now that quite a few players has joined our community, we thought that we would like to know how our current playerbase (or at least the ones who currently sign up for keys) compares to the type of players we originally thought would play Heroes & Generals.
As we have mentioned before, we're starting to focus quite a bit on getting the game more accessible and easier to understand for new players. We do this for a number of reasons – first and foremost to give all new players a great experience, but secondly when we go to the open beta, launch and post-launch phases we'll hopefully be able to attract players who aren't that hardcore and we would still like to give them a great experience. It's not our goal to create a niche game with a small ultra-hardcore playerbase – no, we have quite high ambitions as to how large a playerbase we want, so the game better be easy to understand and fun from the first minute… but at the same time be challenging and compelling enough so hardcore players can find their home here!
…time for Propaganda, Developer Blogs and Team Debriefing of this Week:
Do you want to receive the weekly Intelligence Bulletin by email? Then go to your Account settings, press 'Change account settings', check 'I want to receive weekly development updates' and press save!
Propaganda this Week
Our latest newsletter with updates on the development of Heroes & Generals is out. Check your inbox or read it here.
Do you want to receive our newsletters by email? Then go to your Account settings, press 'Change account settings', check 'I want to receive newsletters' and press save!
Developer Blogs this Week
By Reto.Hal9k, Render Programmer
"When seeing the game from the outside it's really hard to get an idea of just how many machines and services that is actually involved to run our game Heroes & Generals. So, I just wanted to give you a brief overview of the setup." Read More
"We've just sent 1000 new keys to the first 1000 who filled out the Beta-key Survey. As more than 2000 has filled out the survey so far, not all will get a key in this batch, but all who fill out the survey will be placed first in the Beta-key queue." Read More
"We're very interested to know more about what kind of gamers join our Beta-program, so we hope that you'll enlighten us by filling out the survey. And feel free also to fill it out even if you already have received a key." Read More
Team Debriefing
Design


Reto.RedBjarne, Game Director
"- some work on auto-resolve demo
- a lot of finalizing on assault-team insignia. A new demo soon to arrive :-)
- a few interviews
- some meetings
- skinning a few more components on the flash site (checkbox and buttonbar)
- finish rank icons up to level 11 (current max is 10 but will be increased)"



Reto.Robotron3000, Community Manager & Game Designer
"Getting our new intern 'megaman' ready to work on building a better integration between community site, forum and wiki. Looking into how Assault Teams fight when no players are around."

Artists


Reto.Hr.Wille, 3D Artist
"This week I have been making new stone, metal and wood materials for the environments.
Also worked on getting in-game ribbons and combat badges up and running."




Reto.Mato, Lead Character Artist
"I'm making street lamp textures and shaders."




Reto.Owleater, Character Designer
"Concrete rubble and bricks – And is doing the final highres in Zbrush."




Reto.Colding, Lead Animator
"this week I have finished first draft of characters exiting the transporter planes Douglas and Junkers. Also managing to-do lists and changing to the new perforce streams workflow."




Reto.Dave, Environment/Props/Concept Artist
"Been making some textures tests together with Reto.wille."

Coders & QA


Reto.Goonstah, Programmer and Technical Lead
"Almost finished the installer. Passed it on to Reto.Splixxen for testing."




Reto.Hal9k, Render Programmer
"- Lobby server backend code rewrite to use AssaultTeam slots.
- Server side Player Match Making system"




Reto.Ogssan, Gameplay Programmer
"- Worked on the action game side of the new lobby
- Reworked some action server -> war server communication
- Added character rank to the new scoreboard
- Some GUI work
- Show latest kills moved to its own keys, default is 'F3′
- Fixed Air assault ribbon
- Fixed Ground attack ribbon
- Added real-time ribbon unlock info in the action game
- Capture times tweaked so, if there are two people capturing the second will be half as effective as the first, if three are capturing the third is only half as effective as the second, and so on… but all are credited equally
- Spawn delay tweak, if one side is an underdog they will have faster spawn times"




Reto.Splixxen, Lead Tester
"- Test installer
- Test Windows 8
- Verify bugs and fixes
- Test Andriod/iOS Apps"




Reto.Indusninja, IT Architect
"- fix for search player error
- auto-generated missions limited to only 1 non-full mission at a time
- FriendInfo object structure changed (secure data omitted)
- fix corrupted data for warmap (remove incorrect accesspoints)"




Reto.Vashu, Flash Programmer
"- Flash client only uses assets downloaded from Content Distribution Networks (CDN) [Eisenhower]
- Updated Friend's list to show more and updated information [Eisenhower]
- Added better handling of various scenarios for the new Multimarker [Eisenhower]
- Started work on the Player Screen [Eisenhower]
- Investigated custom mouse cursors [Dropped]
- Migrated to new system for source control and bug fixes after this
- Brought back screen transitions and cleaned up a lot of old code [Eisenhower]"




Reto.masterdisaster17, Server Programmer
"Let's see…. bugfixes and polish for the new backend storage. Improvements to server internal caching. Currently working on improving server error reporting."

Sound


Reto.Draebesmoelf, Lead Sound Designer
"I have recorded some Foley sounds for the weapon reload animations. After cutting and editing the recordings I have added subtle Foley sounds to the Colt M1911 and the Mauser C96 animations. I have also edited the other reload sounds for these animations. Furthermore I have been working on ribbon-achievement-sounds and on some sounds for the strategy part of the game."




Reto.Lord, Audio Programmer
"- Finished threaded audio resource initialization
- started character screen join implementation
- work on next iteration of lobby "

Management, IT & support


Reto.Hansg, IT Admin
"1. Perforce slave setup. (not posible to use as we want it to be used.) :O(
2. Creating more and more secure network.
3. Make disk stat IO on ALL live action server.
4. Central loging from web servers. and backbone servers.
5. Various other IT stuff"




Reto.KenSolo, PR Manager
"I lauched the Beta-key survey this week, and so far more than 2500 players has filled it out. The August newsletter was also shipped this week, and Reto.RedBjarne and I have made the first design-suggestion for the flow first-time users will be offered (introduction, tutorial, etc) or 'First Blood' as we currently call it. :)"
NOTICE
The Intelligence Bulletin is designed primarily for the use of the members of the Heroes & Generals community. It is a vehicle for the dissemination to them of the latest information received from Reto-Moto Intelligence sources about the development of Heroes & Generals. Readers are invited to comment on the use that they are making of the Intelligence Bulletin and to forward suggestions for future issues.
Reto-Moto Intelligence Division,
Developer Department