Hello everyone. It's been a while since our last article, but now we finally have enough content to show off, so let's get started then. We're also getting a good number of watchers, so make sure to tell your friends or anyone about this to get the mod known.
Sabrean's Zombies
So, to get it started off, we'll be showcasing some of Sabrean's finished Zombies. Now, the Zombine ones have yet to be completed, so for the moment, the only ones right now are Classic Zombies. Let's see what they look like:
So, as you can see, each one is a separate model. Now, everything right now is a subject to change. We can change all the textures and such and make them more HQ to look more pretty, even for ugly monsters. Each Zombie, when we add them, will be separate NPCs and have different health, based on what class they were originally. When we get the Zombine ones done, I can assure you we'll show them. If you're a fan of Sabrean's Zombies, then you'll love these when they get added.
W.I.P Models
Next up are some W.I.P. screenshots from our awesome Modeler and Animator, #trigger_hurt. What we have to show is mostly related to fixing up certain things that are already in-game. Without further ado, here are the screenshots: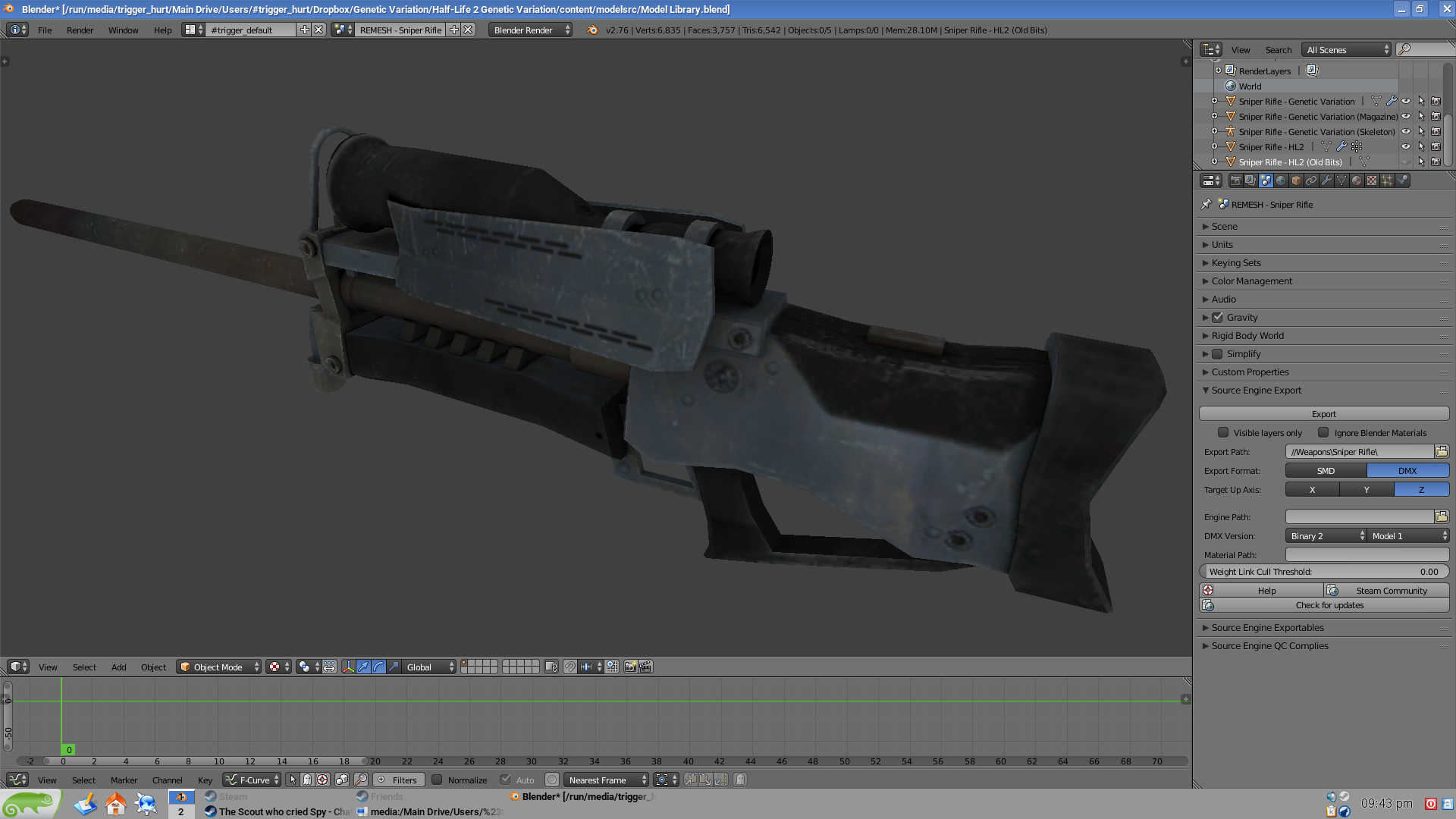 So, this is the normal Combine Sniper Rifle from Episode 2 and you can see that the model doesn't have the obvious edges it use to have. Notice anything else different? Probably not, but look below.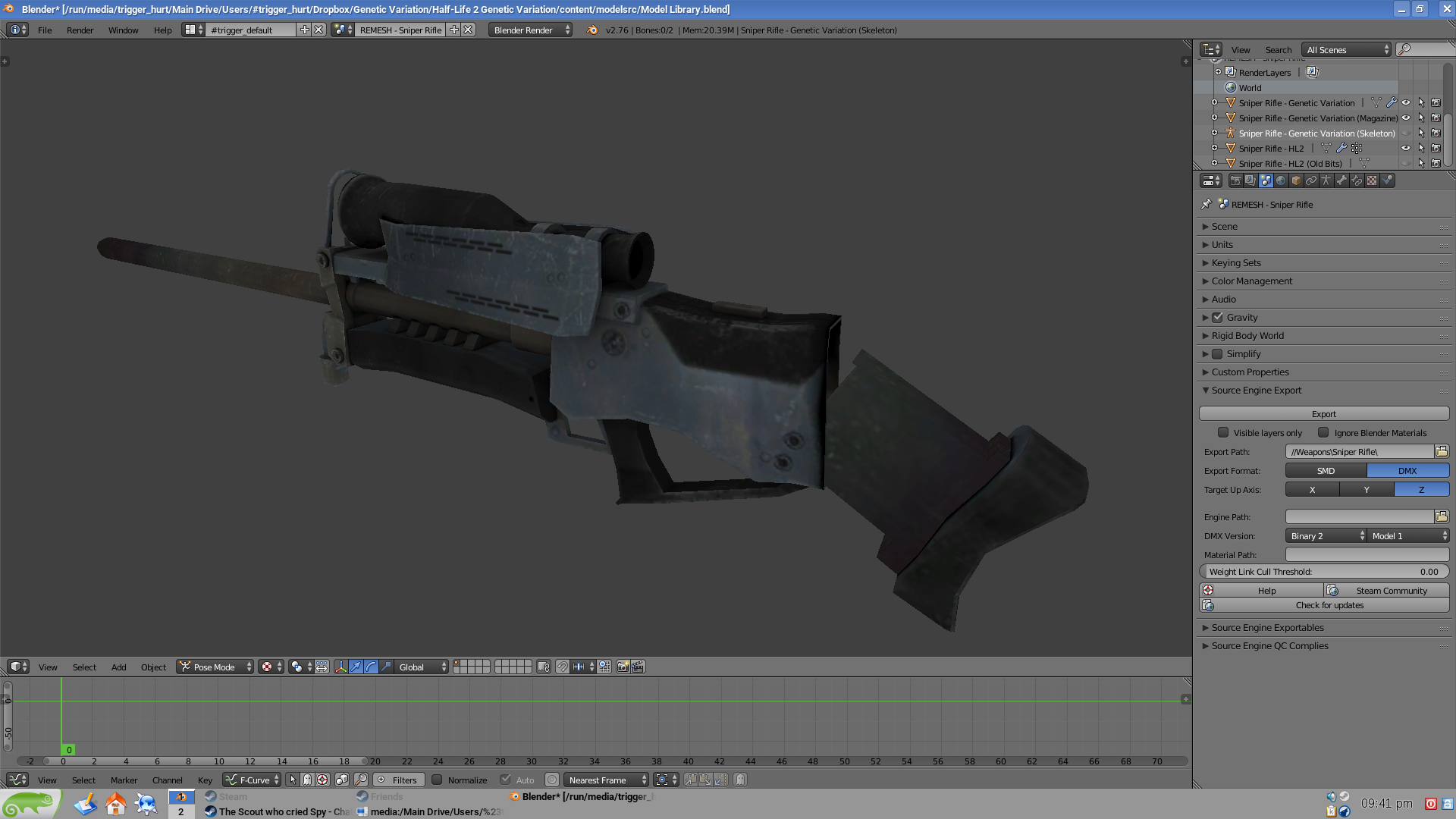 And as you can see here, the butt of the gun is actually the clip of the gun. Keep in mind, this is for our new Combine Sniper NPC and it will reload the weapon by taking the butt off and placing another one in the same position.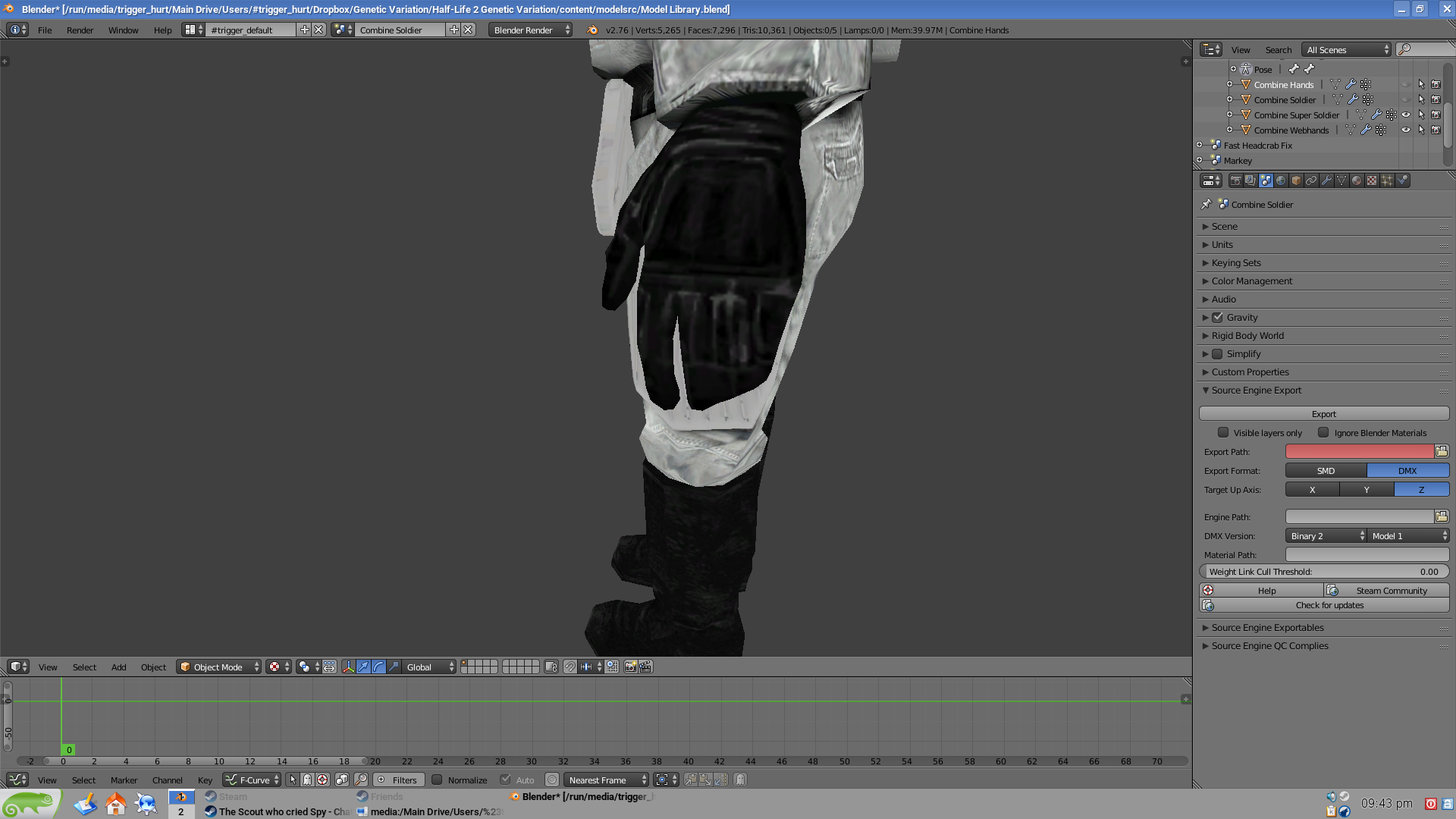 In this screenshot, you can see the Combine Elite actually has no fingers and the hand it has is only controlled by 3 bones, instead of 5. Well, as it turns out, we managed to fix that.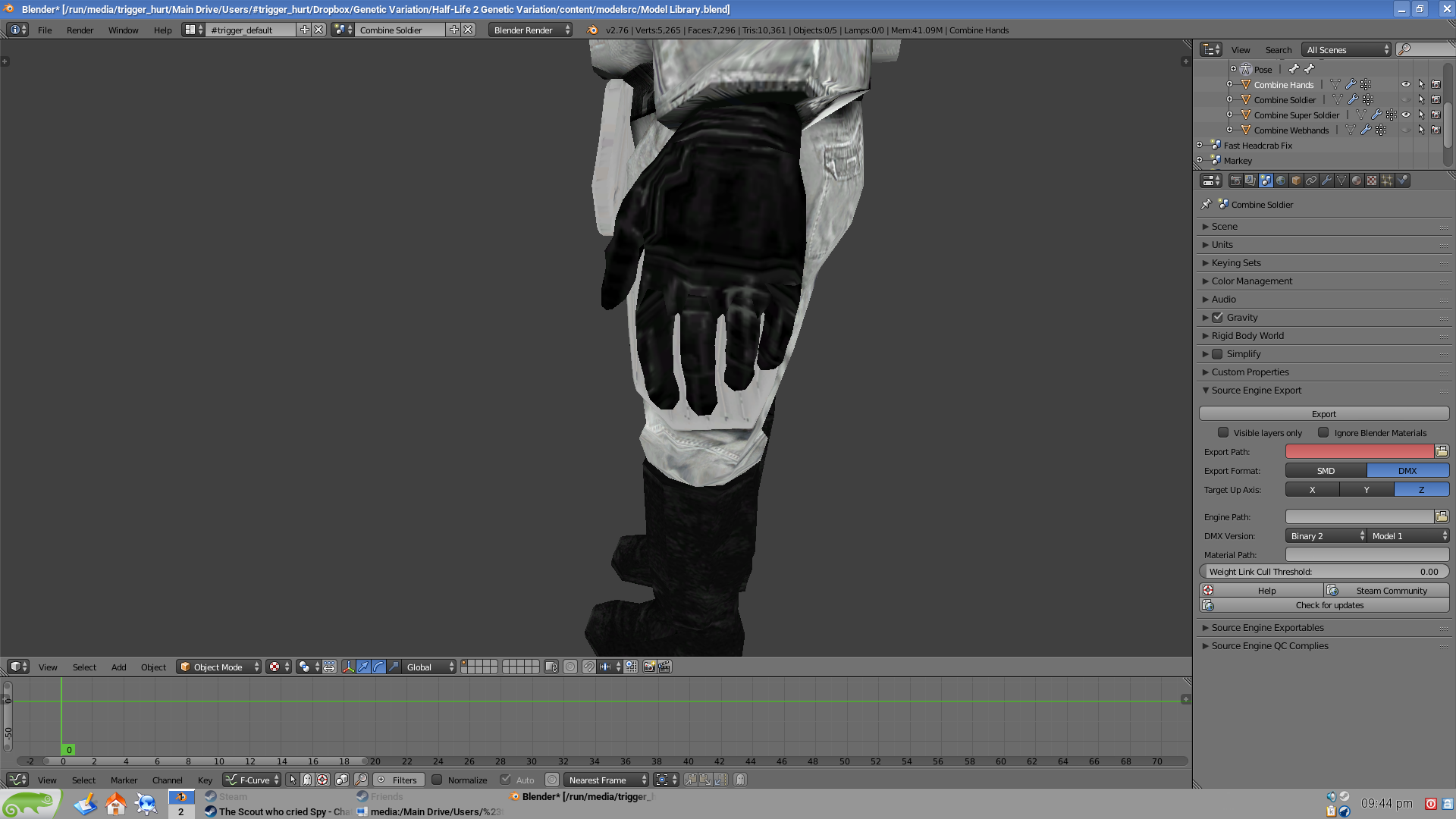 They now have actual hands! Funny thing is, is that because of this, it pretty much makes the original animations incompatible with it, due to the simple change we made and we are doing a reanimation for Soldiers as well, so this is a great thing. We plan on fixing the hands of all Rebels as well, so Male 07 can finally have real fingers.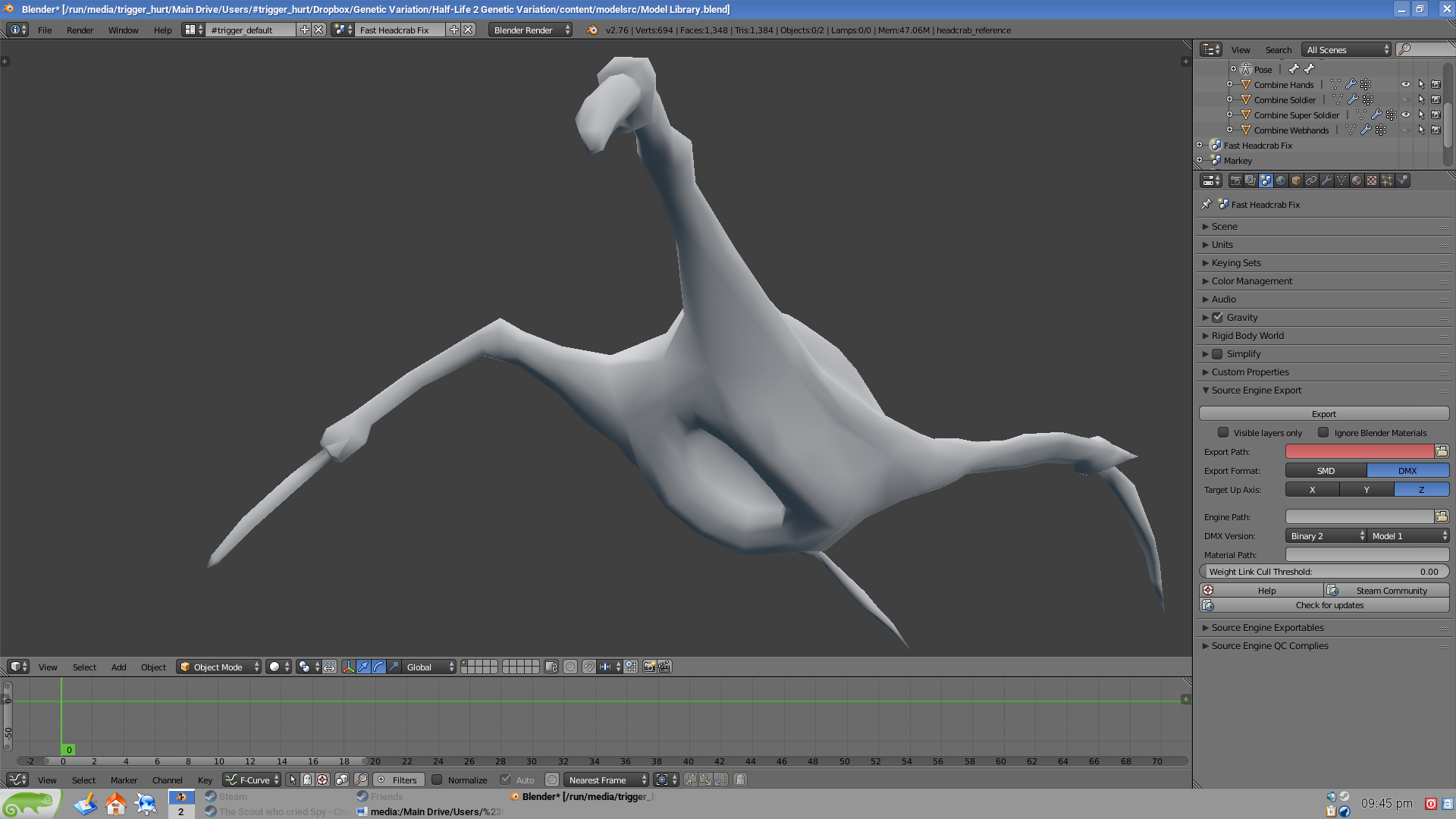 This one doesn't look like much, but you'd be surprised. So, the Fast Headcrab actually didn't have a modeled underside, rather a flat texture, yet all the other Headcrabs have their undersides modeled out. Luckily, we noticed this apparent issue and decided to fix it. Thank us later.
Early HQ Citizen faces
Second to last are some very early W.I.P. Citizen faces, specifically for Mike, Ted and Joey, with all of them being textured by Allen Scott. Here they are: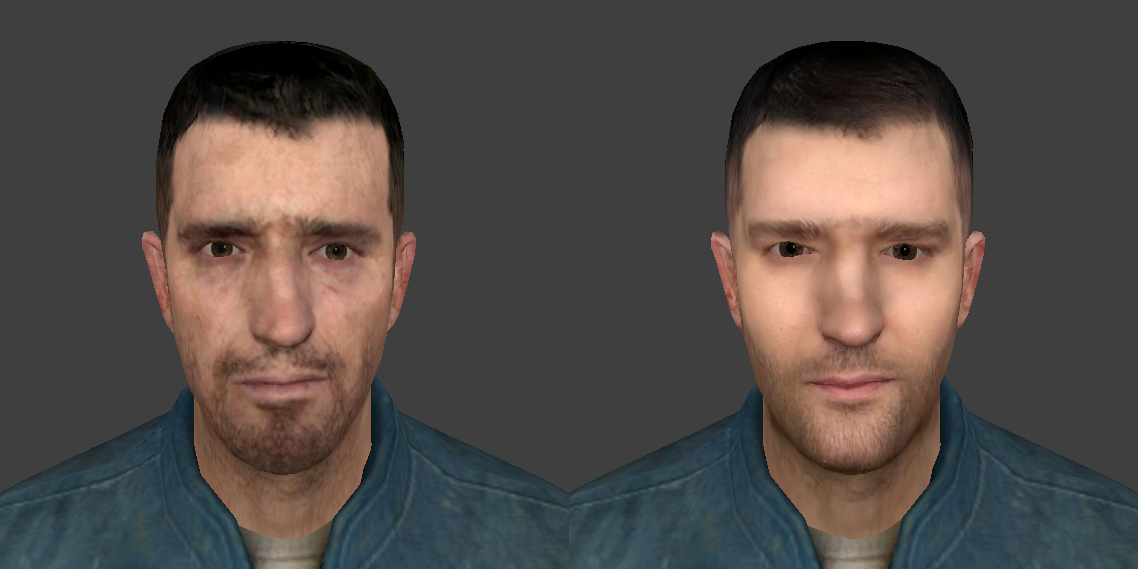 Mike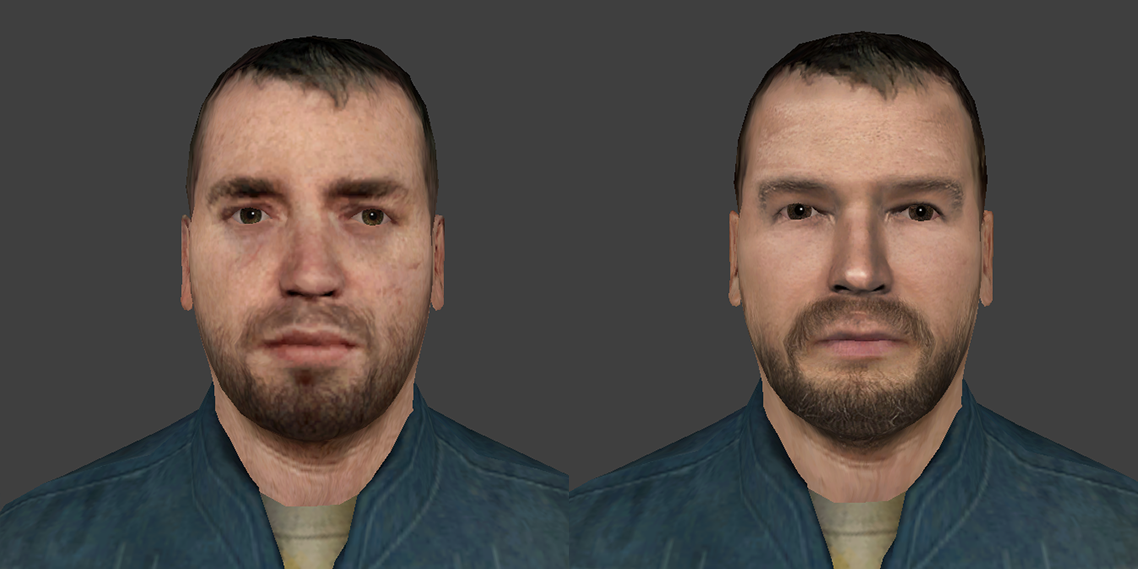 Ted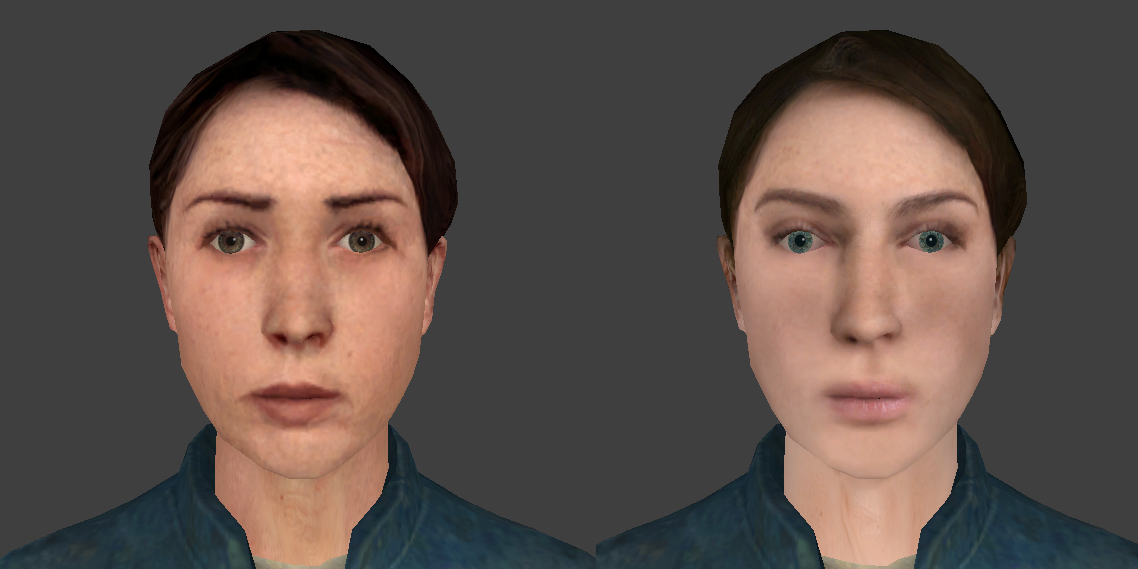 Joey
Now, as I said, these are very unfinished and right now, only meant for testing. Some of the obvious things we need to add are:
Wear to all faces.
Scars to show off CP beatings
Bruises to show off CP beatings
Females that don't look like they have make-up on their face
Out of all of them, Ted is the most complete, compared to all others, but he is still unfinished. We will address the issues stated above soon and we'll all have HQ Citizen faces, at last.
Art Livestream
For the last section of this article, we have some very exciting news. Dragara, our concept artist who has provided wonderful things, such as the Combine Headcrab, will be hosting an art livestream next week. The date and time is:
Sunday, April 10th, 2016, 4:30 PM, Central Time
Dragara will be drawing the Overnome art for GV and possibly something else. We hope that you can join the stream. The stream will be broadcasted on Twitch and I'll provide Dragara's Twitch Channel:
We hope you enjoy the stream when the time comes and the stuff we show you in the future. That's all for today, but stay tuned for more updates in the future. Thank you all for the support guys and keep it coming.