Welcome to the new Update Information
Great news, Robot-fighters!
We have shared with you a glimpse of the big changes ahead. In this Update you will see the first results of our continuous work to make the game better. Some of you have written to us questions for the upcoming changes and gave us enormous amount of feedback and suggestions. Thank you for all your support and help!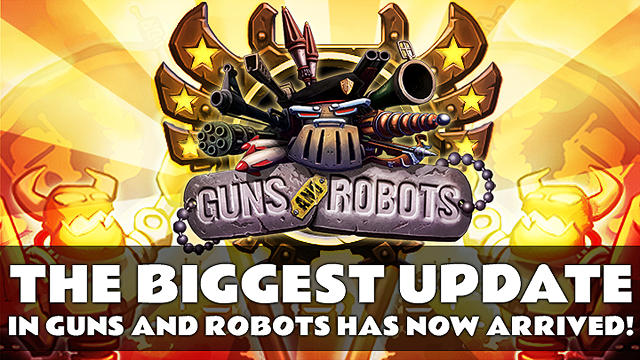 Onward to the Update Information!
All of you can now enjoy drastically reduced prices of all items! You will now have the option to get your hands on each and every weapon or part of your choosing. This will grant all players equal start in the game and will give immediate access to variety of options to create their deadly machines.
Garage Interface
New Interface is waiting to assist you! Guns and Robots now has new graphical user interface which is ready to support you! The new Interface will provide help in building robots, ease your navigation through the game menu and navigation bars. Another significant improvement is the addition of more detailed information you need about the items, great notification system for resupply and many new features to play with such as item upgrades, robot paint, device charges, new social section.
New and easy to navigate main game menu providing easier robot creation process and navigation. Building robots has never been so easy and amazingly fast. With the improved creation process you can have the robot created in no time and jump strait into action without searching for parts. Now the process is supported with easier to navigate menus to expand all the information you should consider before building your robots.
Now players have instant access to all major game sections with the help of the new main game menu. It consists of five main sections-Robot, Supply, Store, Stats, Social
Build your robots fast and easy
Get instant access to the modules
Paint your robot to your liking
Upgrade your robot parts
Examine your inventory with ease
New Supply and Repair - Re-supply and repair options with detailed information and statistic that will guide your decisions.
Repair your robot with easy to understand graphical interface
Resupply all your weapons and devices instantly in the new and improved resupply section
Equip different consumables to aid your robot in battle
New Stats Dialog- Check your game progress in details, see your achievements, ladder stats or the tech tree upgrades you have unlocked.
Totally redesigned Inventory with easier to access statistics and detailed information to compare items or find items
Completely redesigned game store to support you in purchasing needed parts with filtering options. It will provide you with fast and easy currency exchange. With completely new system to sort and filter items by different parameters, you will be able to:
- Compare or examine each item in details
- Instant Sell or Buy Option
Fast Currency Exchange - you can exchange premium currency for normal currency through the menu
New Social Menu will help you meet new friends, speak with your squad, find a guild and discuss tactics with your team before entering battle. - Now you can chat with your friends, create guild and unlock guild buffs in one screen with no need to navigate through different menus for each action.
During robots construction process you can now immediately see all your available modules.
Completely Redesigned Options dialog with easier key settings and improved graphics and sound options to make your experience even greater.
Combat Interface
No more wandering through the maps! New notification system will walk you through the main objectives depending on the game mode, showing current states of the robots, details on the ammo and weaponry. Upon battle completion-detailed end-game dialogs will show your performance with information for the credits won, bonuses acquired such as charges, consumables and crates.
Now with more clear objectives to support your actions you will never have to wander in the maps during battles. The new notification system we implemented will guide you through your objectives and will support your decisions in game.
Free Mini-map for all players! Mini-map is now a default interface feature accessible to all ! The Radar device has been redesigned to give you tactical advantage in the game. The Radar has been reworked to show additional information, such as mines and turrets on the map.
More clear robot status on the battlefield with extremely detailed information about your ammo, weaponry, and state.
Extensive end battle dialog, including your achievements during battle - various rewards, such as upgrade components, second currency, credits, crates and more.
New Features
Upgrade items system is live and all of you are welcomed to check the huge amount of new customization options it provides. Now you can upgrade up to ten times your favorite weapons and test their lethal power on the battlefield! Those of you who are concerned about their already purchased items and weapons can be assured that the Update will not affect your item tiers.
With the new Interface redesign you can head to upgrades easily via "Robot" Menu and check your available upgrade tiers.
Leveling up has never been so easy! With the help of the upgrade system you now can easy catch up your brothers in arms and play together!
Now you can paint your robot! Bored from rusty gray visuals, now you can have a sparkling new looks thanks to the new feature. Robot painting will give huge excitement on the battlefield as now you can choose the color of your robots. You can paint your robot parts with up to three colors from huge variety of starter color options.
Painting is located in the "ROBOT" menu, under the "Paint" tab.
Now players can paint each part of their robot with up to 3 colors per part.
Painting uses paint components as consumables. Players can get those components from the store.
New Consumables Options have been added to the game. Players can equip up to 3 consumables to aid themselves in battles.
Consumables are located in "Supply" menu, under "Consumables" tab.
Feel Like running? Yes, You can now run in the map with the new Sprint feature.
Sprint Feature is available in battles when holding "Shift" Button. Be careful while using it, as the sprint option will cost you energy.
Devices now use charges as their ammo. In order to activate a device during battle you should supply it with charges.
Device charges are located in the "Supply" menu, under the "Devices" tab.
Second virtual currency has been added to the game - "Sparks". It can be used to speed up your upgrades or buy vanity items and components and grant you additional perks. The second currency can be exchanged for GAR credits.
All players will receive a starter pack with 100 of the new currency.
Changes you should consider:
Your credits will not be changed and will not affect your purchased items.
All your weapons that have been purchased in the old version have certain tier (

check table

). We will not change their tier in the new version
New purchased items will be starting at the lowest Tier 0.
Friends list, Guilds and Squads are moved to the new "Social" menu for easier access to the social features of the game.
Rented items and weapons will be dismissed.
Ladder will be temporarily unavailable.
Important Information:
Alt+ Tab can cause disconnect. In that case you should restart the launcher. When minimizing the game for a long period of time you might get disconnected from the server.
Temporarily only English Language will be supported.
Tool-tips are temporarily unavailable
Guns and Robots tutorial is temporarily unavailable.