This is a conglomeration of the items I have posted on Google+ ( Gplus.to ) concerning the singleplayer missions/campaign. This newspost is for all of you who do not watch the Google+ Stream.

Evolution RTS
- Jan 28, 2012 -

Public
Been working on singleplayer missions all night using the
+
Zero-K
Mission Builder made by Quantum. It's pretty damn impressive.
I have the first mission all ready to go. Working on the second. It's pretty involved. On the surface it seems REALLY hard, but in actuality, it's a "work smarter, not harder" type of thing. Also involves a unit that most if not all of you have ever seen (kaiser will jump for joy when he sees it).
I've been doing a bunch of fixing game stuff too, as well as adding mission specific units.
Hit me with your mission ideas!
------
I have started preliminary work on the singleplayer mission launcher. Check out the design and tell me what you do/don't like. If you happen to be familiar with visual basic express 2008, specifics are appreciated. If not, no worries, just point out what sucks and what doesn't :-).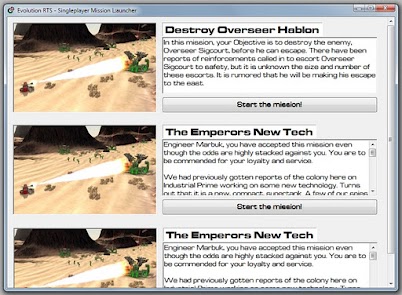 Edit: This design is defunct, as Koshi is retooling SASI to handle it (linux users rejoice).
------
Just a quick update. It's been a few days and you guys might be wondering wtf I've been doing. Well, long story short, I've been fighting with the
+
Zero-K
Mission builder. It's really great, but in some ways it has some quirks.
One of those quirks is that it wouldn't load the Evo maps properly. So, I started a great crusade to move all Evo maps over to a newer format. It's extremely time consuming but it's definitely a good thing to be doing. I also abstracted the map feature assets so that feasibly Evo maps could work with +Zero-K for example.
Slight problem The mission builder refuses to load them properly (still). My best guess is that it doesn't understand how to read lua information files (newer map format). I'm waiting on Quantum (the creator) to get back with me about it.
Work on SASI as a mission launcher is progressing and I've made some progress on working out a story arc that doesn't suck for the campaign. I'm also overhauling the Desura install.
When the next update comes, it'll be a pretty important one.
------
Finished the first campaign mission tonight. And by finished, I mean all the scripting is done. I had to do some trickery to make the mission builder work with the map that increases the amount of crap I have to do to make the end mission work, but meh, no biggie.
First mission is set on New Iammas, and the people/military of New Iammas are on their last leg. In a daring attempt to beat back then enemy, you must take out their governing powerplant with nothing more than a few scouts, a light and heavy skirmisher, and 2 assaults. All this while the outpost (controlled by another allied overseer - you don't have any control over the outpost units) is being raided and pummeled.
Good times :-) I want to give away details, but I don't want to spoil the surprise lol.
I haven't written the story for it yet, nor the mission briefings/ingame dialog/briefing, but I have a pretty solid idea to work from. I don't know how many missions to aim for. Some of them may potentially be pretty short. Others may be either quite lengthy or quite short depending on the path you take to the end goal. I wish I could do achievements and rewards and stuff #keepdreaming