Even the Ocean is a hybrid fantasy-adventure-platformer based around an energy-balancing mechanic, and slice-of-life-platforming-narrative-adventure set in a present day setting.
This is news for 2014-3-2! Sean posting. Be sure to follow me and the game's Twitter.
Or if you prefer, like the Facebook page.
There will be a motion-demo (playground levels) released at 800 followers on the game's Twitter account!
This recent week a number of things happened, one of them being finally getting started on tiling areas with the final tilesets. The way way work with levels in Anodyne is to start with the themes of an area, as well as the base mechanics and entities we wish to explore with the energy mechanic. From there, we tile the area with a placeholder art tileset, and then after we finish the area, we finally put in the final tilesets. This is done in two stages, first, I roughly tile the area (see below), then, Jon goes in and does touch-up details (see 2nd picture for an example).
This works pretty well, because we know we have an interesting level just with the placeholder art, so the final art on top is a nice bonus.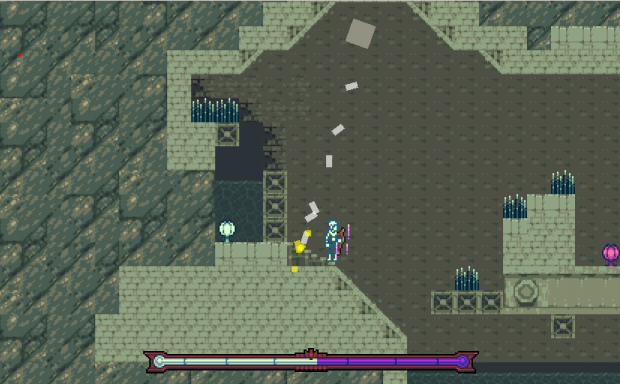 We also put in some NPCs this week. I had coded the NPC and dialogue system many months ago, but we finally got around to being able to put in areas to the Shore area that made sense. Here is the testing room for them. It's nice to finally see some dialogue in the game that will be in the final game, so it really feels like the game is coming together in this sense, though there is still much work to be done.