Eve of Destruction (EoD) was found in 2002 as a modification for Battlefield 1942.
Mods were also released for Battlefield:Vietnam and Battlefield-2.
And now built within 3 years by just one person and a zero-budget Eve of Destruction - Redux has been released as a standalone indie game with it's own engine based on Unity 3D!
It comes with 33 different maps, 180++ drivable vehicles like tanks, jets, bombers, helicopters, APC's, jeeps, trucks, bikes, boats, ships and also drivable horses and elephants!
Players can select from 64 different handweapons and play as Vietcong, GI, NVA- ARVN-, Australian-, French- and Laotian soldier.

To learn more about the content go here.

The game is available for Single- & Multiplayer and it has a lot of different game modes.
Game-modes in Singleplayer are
Arcade
Combat
Tankbattle
Dogfight
Sniper
Doorgunner
Racing
Basejump
Zombie
and in Multiplayer (2 - 128 players)
Conquest (take flags/controlpoints)
Search & Destroy (search and destroy different targets)
Hill Fight (hold a position)
Team Deathmatch (Teams fight against each other)
Deathmatch (everyone fight against each other)
To play Multiplayer online games the player can create a room and invite some friends to play!
EoD is translated for these languages: EN, DE, FR, IT, ES, RUS, CN and VN.
The full version and the demo have been released on May 31, 2016.
There are plans to create some modifications and upgrades for the main game.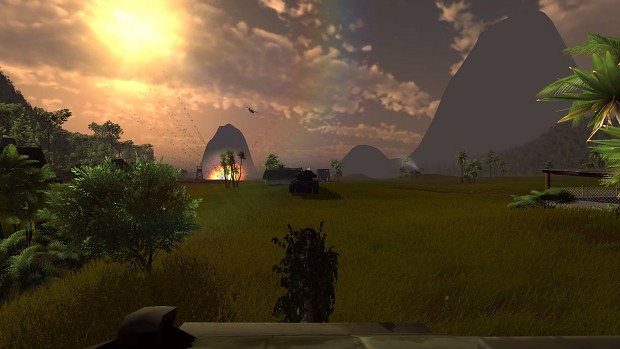 Download a free demo here at moddb or from our website.
It's available for PC: Windows, Linux and Mac 32 and 64 bit.
Enjoy!