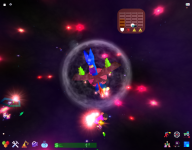 Update: We stopped using multi-threading along with multi-core code, and this dramatically improved performance (yay!) .. this means the August demo will reliably work on a wide variety of PCs, faster than our videos indicate.
Empire in the Sky, when I first embarked on this journey, as software had a single gaming innovation, but I wanted the game itself to be rich in features. Since the game has grown from an early experiment, I have found myself involved more in software than in "game design", mainly due to the encumbering world of Windows development. Really, any platform has its own foibles, but the volatility of MSVC++ EE 2010 has damaged the project. It is very hard to get platform IDEs right, and I'd say Microsoft is 99.9% there, but the rest is a grain of veritable sand. Sand, however, forms a pearl inside an oyster, and this is certainly my oyster thus far.
I'm going to introduce the game in an interview format, so you can get a rough picture of what is in store for this project -- whenever it gets completed. I would like to have a well-rounded core experience available to players by the end of 2012, but may have to defer to March 2013 if I take a full-time position to keep the wheels turning. I always return to this project, and have done this several times to fund it and the engine framework beneath it. I could also use help; but it's hard to find dedicated people willing to work for nothing. If you think you are this person, consider this: it takes hundreds of hours to get something looking wonderful. If you're still interested, read the invitation at lostastronaut.com for prospective collaborators.
What is the setting of Empire in the Sky?
Earth is intact, but polluted and ravaged by wars. The human race has entered a relative golden age, however, despite its rather fledgling status in the cosmos and the wars that have happened prior to the game's start. Acceptance into the Galactic Council and its positive relationship with the "GRB" provide it with plenty of new relationships to explore, and not all are peaceful.
The mysterious GRB provide standards and practices for the commerce and technology of space faring galactic civilizations, but many of the planets are unexplored and contain non-space-faring civilizations. In some cases, aggressor races have enslaved or sworn to protect these civilizations. Evidence of ancient but vastly sophisticated civilizations can be found on planets, so you're an artifact hunter if you're able to find your way through the space wars and other mucky-muck that is space.

What kind of features do you expect to include in a "final" release?
We're not certain we can do a fully immersive MMO with such a limited amount of resources, so we're hoping to provide a gateway service and develop a P2P client that at least provides a way to communicate and trade items and blueprints. There may be a way to provide additional interactivity, but it's down the line. One or more artists may be helping develop assets to make the game more rich.
We will provide extensive building capabilities. For those interested in just how much creativity you can put into a starship, make sure to review "Building 101" a primer for building.

Building 101: Empire in the Sky - Desura

What will you be able to do outside the ship?
You, and your team, will explore planets and enter ancient ruins, military bases and alien cities. They will fight alien hordes deep in the bowels of planetary installations and you will wander dungeons in an arcade rogue-like. You're also able to enter your base and manipulate your crew directly, and I'm trying to figure out a good way to provide ship boarding and hostile takeovers.
Outside the ship, you must repair your vessel in deep space.
You will be able to establish colonies, conquer worlds and perform diplomacy to end wars.
Will there be more?
Yes, there will be more, with your support.