Ecotone is a single player platform with a strange character. Evolving in a weird world you must find where you are and why. After working on this game for three months, it's about time to review the project development. So what we have for now :
- World 1 (3 world are scheduled) is almost finished : the bestiary and level's graphics are almost done.
- 2 recorded musics. (One for World 1 that lasts 10 minutes to avoid repetition and one specially composed for the last level) and sound designs.
- World 1'level design is complete. All we need is to playtest.
Take a look :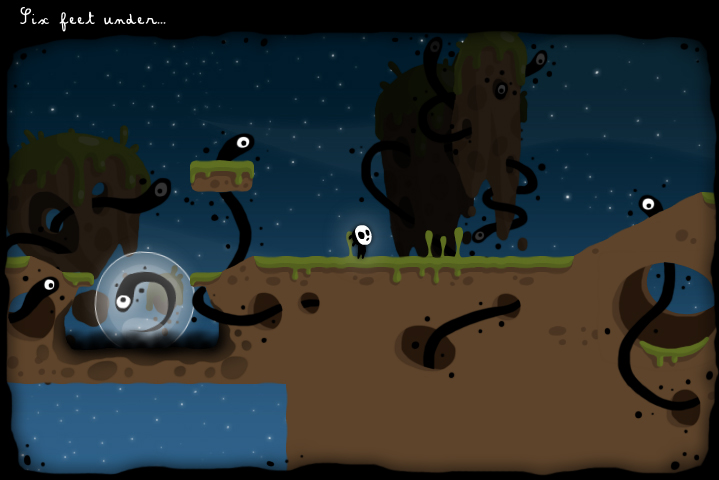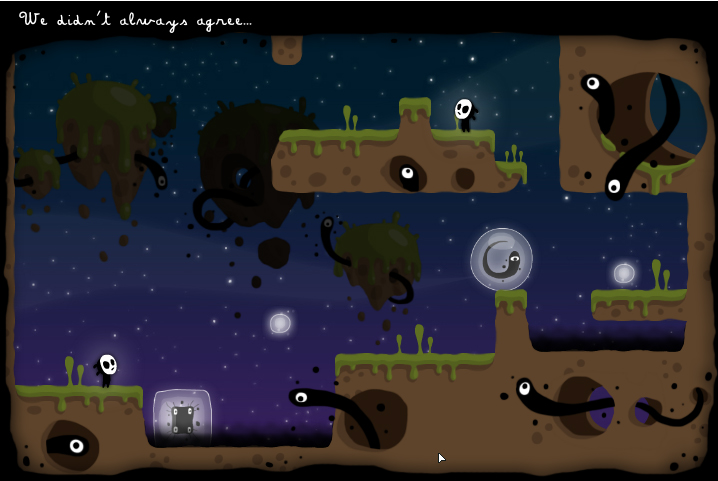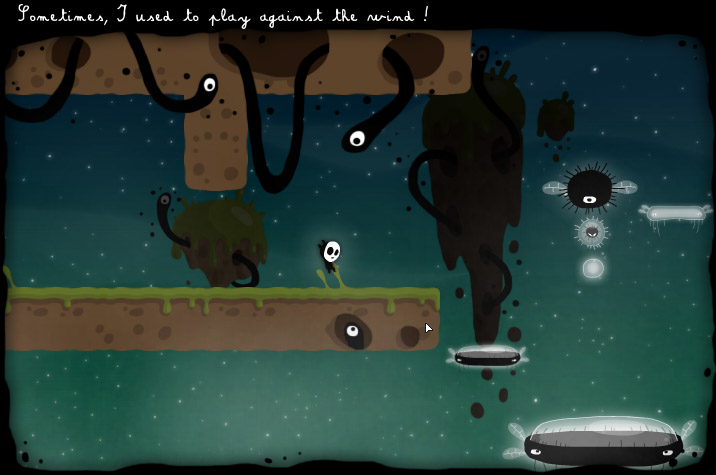 Level Design et Gameplay
World 1 is designed in the following way:- Each level begins with a sentence. The sentence allows the player to understand the level or it's only used to illustrate the level. Sometimes, the sentence is the key to finish the level (Notice that the player will manage to finish the level without take a look to the sentence, but it will be more difficult).
- We try to change a little the gameplay for each level. For examples: speed chase, resolve a puzzled level based on the sentence, modification of gravity, take control of several characters etc. Each level has something more that make the player want to go further and discover the next level and its sentence.
- We have made some playtest sessions: To finish World 1, this takes an average of 1 hour. This raises hope that the game time will last for 2-3 hours about. Which it's not so bad.
What about now ?
At the beginning of the development, this project should be a little game intended to finish on Kongregate. However, the project has evolved into something more. We near of 50Mo ( the game weighs 12 Mo but exported with Adobe Air, it weighs 40Mo more). So, the project is more important but still manageable. Now World 1 is finished, the rest should go faster.So, a game too important to be on a Flash portal, we wonder if we should sell the game. Because, that might not seem like much, but this calls a great involvement for all of us, and it will be cool to have this satisfaction.
However, selling a project means to have a structure to retrieve funds, which also means significant costs to do well (purchase of licenses, to pay insurance etc.); So we decided to do this and we'll see what could happen. We think about crowfunding or pre-order. Maybe it's a solution.And yes, we don't want to tell you more about the story but the game has now a name: Ecotone.
Please, feel free to tell us what you think !
Hey, the game director (wich is a very clever cat) had found a new member for the team: