Legendary item rolling

Changed stat distribution on legendary items
Made legendary items be able to roll durability boni
Made amulets and legendary items have the possibilty to roll all existing skills as stats
Added talents as boni on legendary items
Added casting time, life reg, stamina reg as boni on items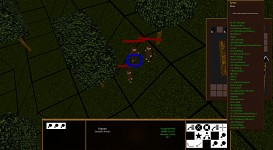 These modifiers can not be found on items from dungeon chests yet,
but that will be coming with patch 260.
Currently, the item needs to be crafted by
a craftsman with skill High Legend or higher for modifiers to appear.
The modifiers work if the unit carries the item,
it does not need to be wielded/worn.
Tooltips now tries to fit itself onto screen if its too long
Fixed server crash from goblins despawning
Increased signal fire life time to 30 minutes
Units in light < 10% now require perception of 20 or more to be seen with fog of war enabled
Fixed goblins sometimes not attacking
Added /rbscript command
Fixed server desync causing items not to be picked up and disappearing since patch 258r1
Made the skills screen scrollable if the unit has too many
Fixed signal fire not working
Weather&Seasons

Units will now recieve a malus on perception if in the dark
Units will recieve another malus while it is raining
In winter units will start cooling down and eventually freezing
Freezing can be combated by being close to torches and signal fires
Blood now gets removed by rain

Potions are now scriptable