Deriva | 0.260 " Quo vadis? "



We rolled out a new major update the last weekend with a lot of new features. In order to survive ingame you will now need a more tactical approach. Everything matters! Which island you choose to settle at start, the temperature/humidity, meteo effects, whether if you carry an item with one or both hands, and so on. Finally the derivan prefers to sit while sailing with the boat. You can also sit everywhere and that will recharge your hands strength faster than standing. The real goal is to let the player know that every action you do matters and every item you find is precious if you want to survive. A departure to another island in search of food or rare raw materials without proper equipment could be a fatal decision. So i think that the classical sandbox way of play will not be really represented in this game. Lately there are a lot of upcoming sandbox games around. Check them out :)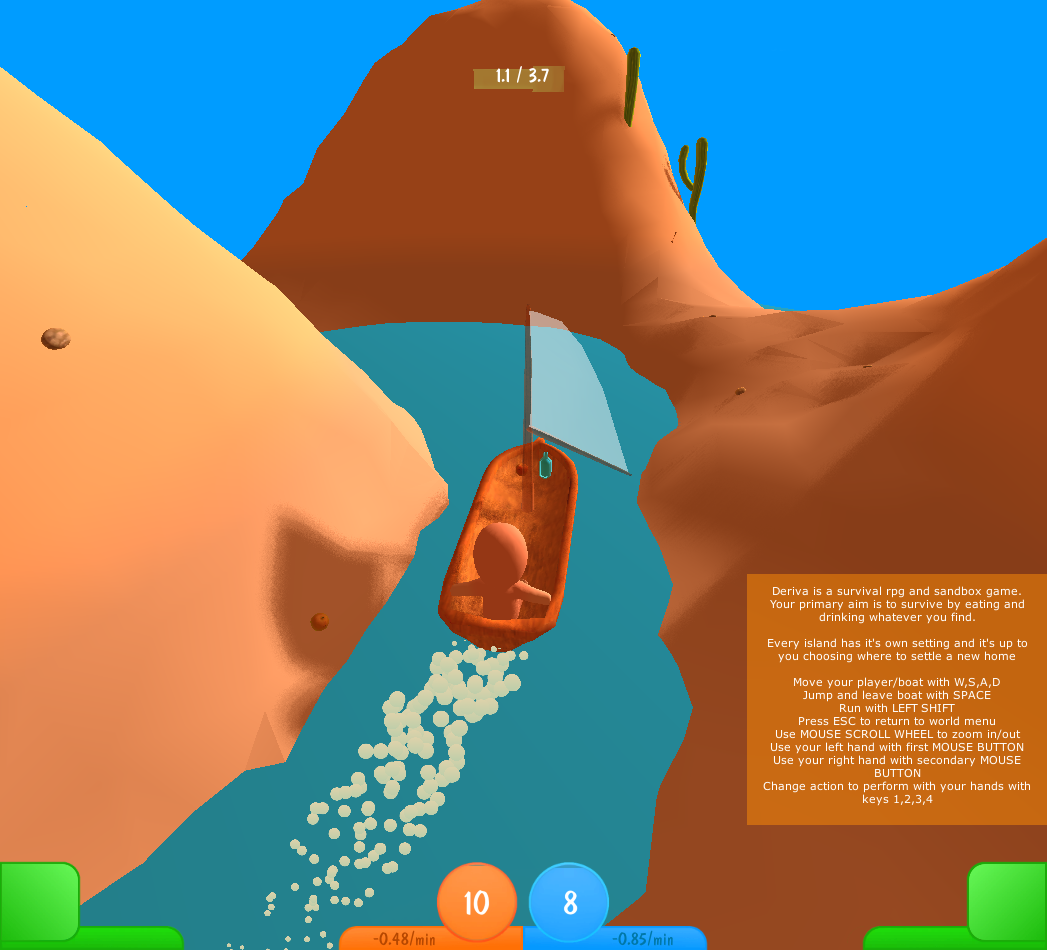 Thanks to the unity3d engine it was no great effort to port the current game on linux and mac os x. I'm not the only one that really hopes that linux gaming has a bright future.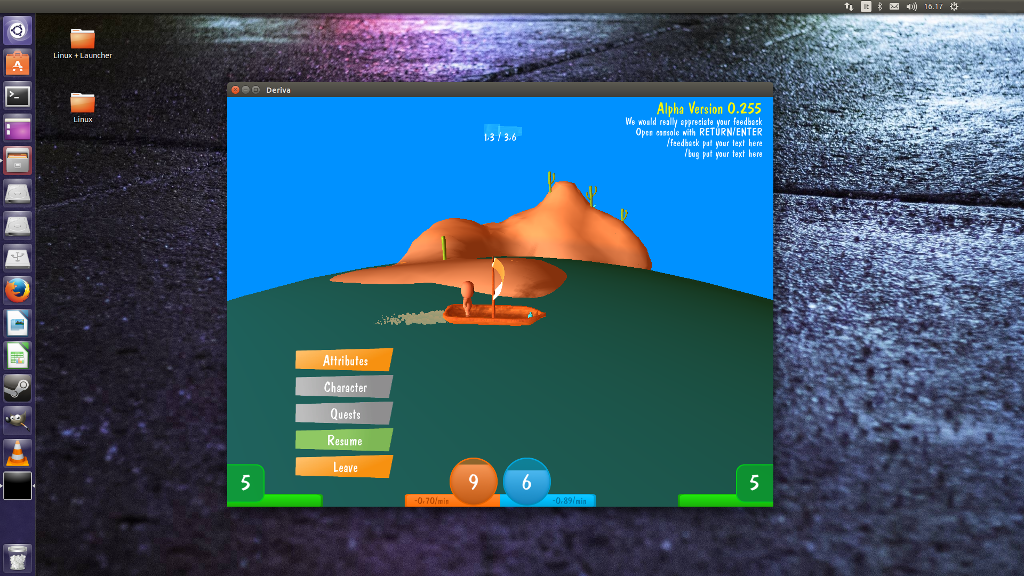 The ingame menu is now comfortably navigable with a joypad, maybe in front of your tv :)
Further changes and fixes are listed at the bottom. We would really appreciate some feedback or a few small inputs for our next updates. That's all folks!
THIS IS AN ALPHA BUILD, GAME CONTENT IS SUBJECT TO CHANGE


or from our website www.somniumsoft.com
Changelog:
- NEW [Game]: Linux and Mac OS X support
- NEW [Game]: player has now 8 main attributes to train ingame
- NEW [Game]: menu navigation system with joypad or keyboard
- NEW [Game]: world is now divided in sectors for better elements management
- NEW [Game]: now you can adjust the hud size at any time
- NEW [Game]: world difficulty setting
- NEW [Game]: ingame menu where you can also adjust settings
- NEW [Game]: full controls key settings
- NEW [Game]: fog prototype to hide unexplored world parts
- NEW [Game]: player sight distance and attack distance properties
- NEW [Game]: player can take a sit and rest a bit
- NEW [Game]: v-sync setting
- NEW [Game]: now you can only save the game at a special building
- NEW [Game]: now you can display current fps
- NEW [Game]: player can drag every item now with both hands
- NEW [Editor]: now you can place items inside the terrain
- NEW [Editor]: now the player needs to unlock the islands of the editor
- NEW [Editor]: counter of elements on island
- NEW [Editor]: now you can destroy elements on island
- IMPROVED [Game]: savegame system
- IMPORVED [Game]: keyboard/controller input system
- IMPROVED [Game]: camera control from boat and player
- IMPROVED [Game]: world management engine
- IMPROVED [Game]: player jumping system
- IMPROVED [Game]: distance camera clipping
- IMPROVED [Game]: crafting system
- IMPROVED [Game]: world/island loading time
- IMPROVED [Game]: general loading bars
- IMPROVED [Game]: interaction with player hands
- IMPROVED [Game]: ingame hud interface
- IMPROVED [Game]: boat model and sailing system
- IMPROVED [Game]: elements floating on water
- IMPROVED [Game]: better tutorial system
- IMPROVED [Editor]: editing interface
- FIXED [Game]: item fall through terrain
- FIXED [Game]: item pick up bug
- FIXED [Game]: strange cloud bug
- FIXED [Game]: huge memory leak ;)
- FIXED [Game]: error with world and island loading
- FIXED [Game]: several technical issues