It's here, it's really here. Dive into an atmospheric story with a friend and survive together.

Co-op mode!
No longer at the mercy of an AI, Ryan can now partner with a friend on Steam and play Debris the way it was meant to be played. For the first time, experience Sonya's perspective and see what she sees. Work with Ryan to reach the surface and find a whole new set of secrets buried in Sonya's ALTA account along the way.

Note: Talking is important, so make sure you have a way to communicate via voice before playing!

Localization part one!
Sonyo, připlav sem! This update brings UI localization for French, Spanish, German, Korean, Czech and Hungarian. It also features full dialogue translation in Czech, with full translations for the above languages coming soon.

Balance changes
From watching players on Twitch, our own playtesting sessions and the closed co-op beta, we've made a bunch of balance changes to Debris. For example, we've adjusted the enemy difficulty curve in chapter 7 and altered the health of certain extra large creatures.

Fixes and optimizationsIn
addition to overhauling a lot of the visual effects in the game, we've done another optimization pass to increase performance on most computers. Debris has never looked or run better!

As always, a huge thanks to all of our beta testers and players all over the world. We've taken the appreciation and criticism to heart (being Mixed on Steam is not a fun place to be!), and hope you and a friend enjoy Debris 2.0!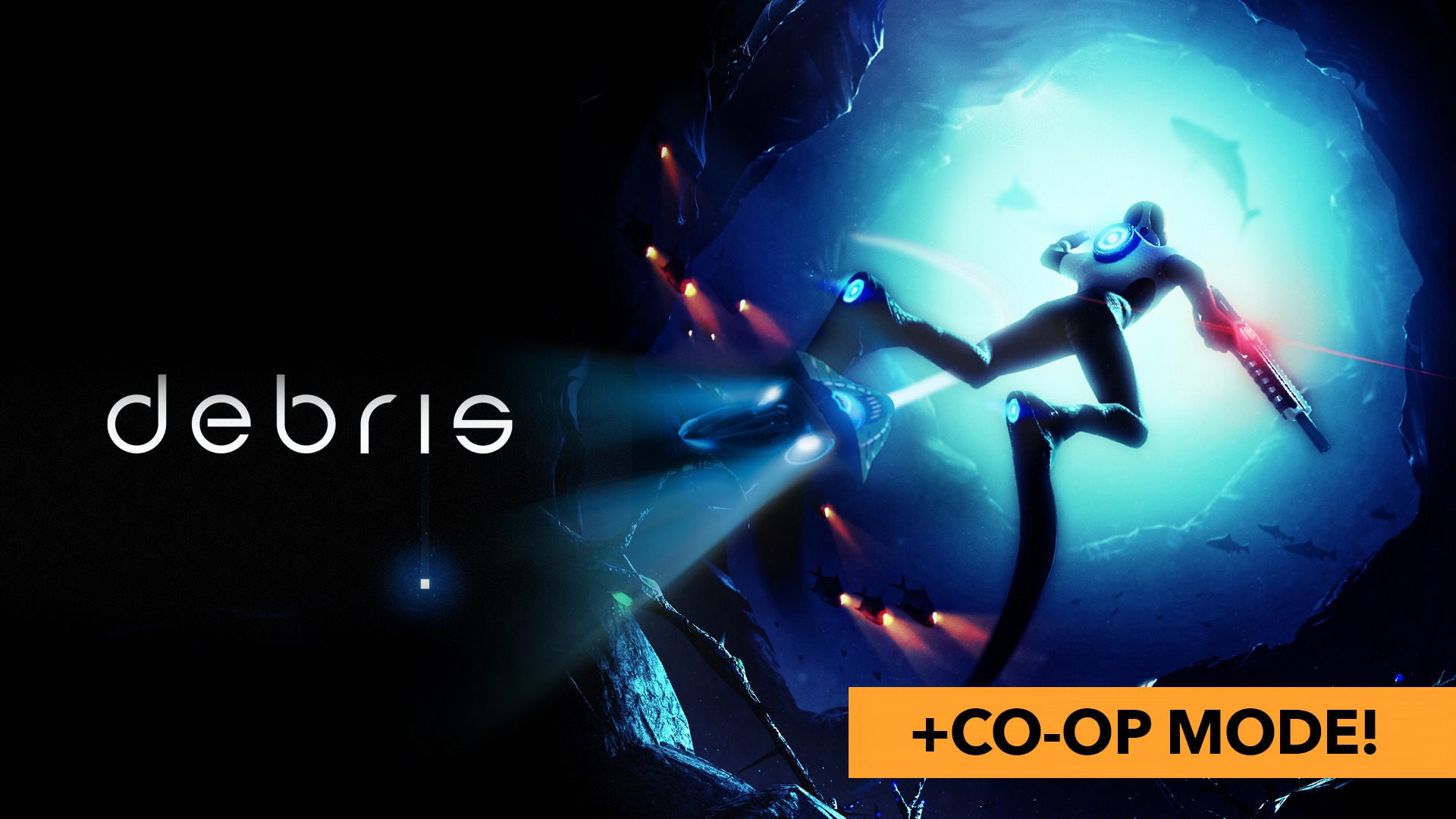 Full release notes:
Added co-op mode (finally!).
Added UI localization for French, Spanish, German, Korean, Hungarian.
Added full UI and dialogue localization for Czech.
Added an effect when players equalize.
Added an effect when the Squid processes debris.
Added audio effects that may or may not occur later in the game.
Added the ability to switch tool modes using the keyboard with 1 and 2.
Added some helpful directions throughout the game to expose mechanics.
Added minimap hints for player facing direction.
Added engine distortion trails for the player and Squid.
Increased the spear's velocity to make aiming and shooting a bit more responsive.
Finding a secret now gives you energy so you can wait and read everything and not worry about dying.
Fixed players getting stuck at flow junctions in chapters 5 and 11.
Fixed subtitles not displaying at the end of the game.
Fixed players dying if they run out of power during the end sequence.
Rebalanced the sharks in chapter 7 so they're introduced a bit more gradually.
Rebalanced certain sharks so that they take 3 shots to kill instead of 5.
Reworked the menu spacing & layout for localization (and to make it look a bit nicer).
Reworked the final chapter for each ending.
Reworked the mouse & gamepad inputs to increase responsiveness.
Reworked how the green dot is implemented (follow the flow!).
Reworked the flow particles to make the flow direction more apparent.
Optimized the Squid's volumetric lights.
Optimized the tool's illumination.
Optimized creature culling.