Original interview can be found here Diedagain.com
As is the trend all over the globe, indie gaming is finally starting to take off in Ireland. One of these up and coming developers is a man by the name of Dan Kenny, a bit of the brains behind Eyesodic Games. I was recently talking to him about the company's productions, and he took the time to sit down and tell me a bit about his new game, Days of Extinction, an outbreak survival scenario that throws the player into the tail end of the apocalypse:


Q: You released a trailer about your new game, Days of Extinction recently. How does it feel to finally be able to talk about it publicly?
A: It's great to be able to talk about the game at last. The trailer is actually hinting at the start of the game, showing the world, but then at the end you see the cryostasis unit that you will awake from to find the world lost to this outbreak.
… Q: What can you tell us about Days of Extinction?
A: Well, Days of Extinction is our first open-world RPG. After a UFO crashes on Earth, the alien DNA mixes with the DNA of humans and other creatures, causing a mutation, and the world is lost to these monsters that want to feed on what's left of humanity. You play as a researcher desperately trying to find a cure for your wife's disease. But lacking the medical [technology to cure her], you put both yourself and your wife into cryostasis in hopes that when you wake up there will be a cure. But when you wake up, you find only a world of danger and that your wife is missing.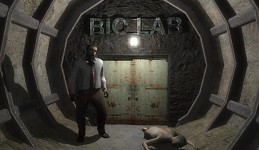 … Q: How long have you been working on this?
A: I've been writing the story and the lore of the game for the last year or so, and the game went into development a few months ago, so it's still in the very early stages. There's still lots to be done and more ideas get added as time goes on.
… Q: When can we expect some gameplay footage?
A: I can't give an exact date on when we'll release a gameplay trailer. The gameplay trailer is really important because what we show in a gameplay trailer is what people expect to be able to do in the final build of the game, and if we put something in that we later feel doesn't work the way we want, then remove it, people tend to react badly to that. So we have to be very sure of the features we show in a trailer.
… Q: When can we expect to see Days of Extinction for sale?
A: The game is still in very early alpha and it'll be some time before we are ready to announce a release date.
And there you have it. I will keep you posted as more news comes out about Days of Extinction.