So here it is, another update on Cyberpunk 3776. Since there where some complains about the Upgrade System and how noticeable progress where I decided to rework the whole thing. Before each setting had twenty little steps that could be upgraded spending a single point at the time, this was leading to the fact that the improvements between "stock upgrade" to "fully equipped" in twenty little steps where'd much noticeable of course.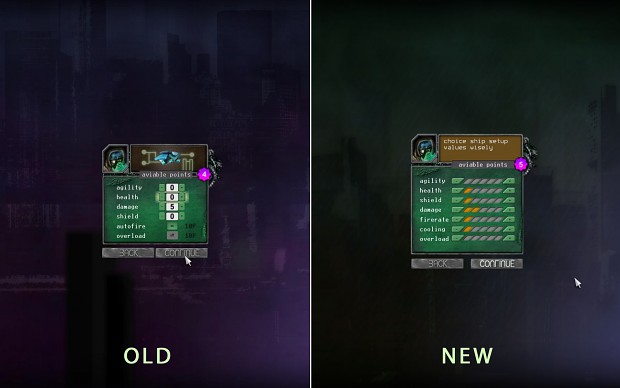 With the new System now everything has changed. To start with, Auto fire is now enabled by default and fire rate can be improved. Shields are now disabled until you buy at least the first Upgrade for them. Overload Charge all so is an improvable Feature now. Beside this each feature is now split in five steps instead of twenty and each improvement step costs a little more than the one before. All so added different Projectile Styles going with the damage Upgrades so it should be better noticeable now.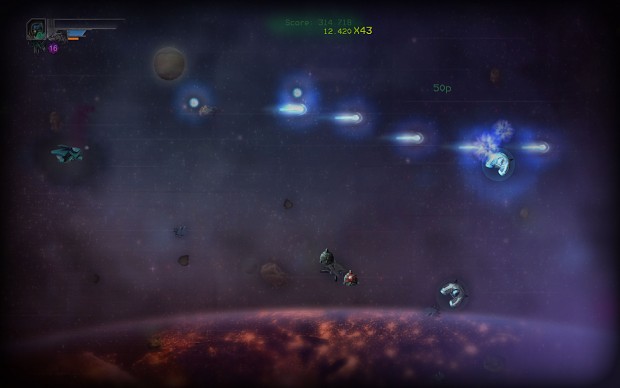 Beside the upgrade system I changed the Upgrade Points dropped by enemies to collectibles. You will have to actually collect them and don't get them automatically anymore so pay attention while playing, dont let them drift away from you. Another thing; I added a Shield refill collectible that might be dropped from time to time which instantly refill your shields when picked up. Not so satisfied with the current drop rates jet but that might be fixed with some tweaking in the future.
All so made some content progress I don't want to spoil here, however you will get a little peek at a new Boss watching the Teaser Trailer. Since I'm coming closer to getting content complete on the Game I decided to limit the playable Stages on the Web Demo to the first two Levels. There might be a pre-alpha purchase on desura soon that everybody can enjoy. Currently I am evaluating to setup OSX and Linux Versions, still looking for a few serious Linux Testers, if you might be interested drop me a line.
If you like the game please consider sharing it on your favorit Network since I need all the help I can get to justify the huge amount of time I spend with development.
cheers
Peter