Recently, I have continued to have issues with the game that I considered solved. Unfortunately, it looks like I'll be fixing this all again. The good news is that it's almost time for testing!
So let's go over this again, shall we. What are the current issues with the game?
Well, here's a bit of a list:
Map transitions are not perfect
Still need to fix roofing
Possible hotkey bar and menu fixes
Interactive tiles are acting crazy! Why won't some work anymore?!
Player location isn't being saved correctly. This actually isn't crucial, but it definitely should be fixed soon.
On the bright side, I have finally gotten some of the things done that I've been working on for a while. I recently fixed a bug where map owners would not change when switching maps and this had been wreaking havoc all over the game. I also officially added map transitions, as seen here: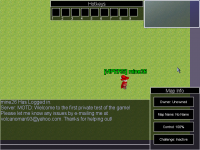 The purple isn't my favorite color, but it works for now.
Testing Update!
As far as testing goes, I have no official date for it to begin, but expect the first tests to commence the end of this week or next week. This is assuming nothing terrible happens. There are still more slots available for testing if anyone is interested. I'm really just trying to get as many testers as possible. These initial tests are crucial because it will tell me what is wrong with the current systems and what needs to be fixed. Thank you to those that have already signed up! If you want to sign up, leave me a comment here or message me.
Well, back to work now. Wish me luck!