That's right, the test version has officially been released. Although there are clearly lag issues among other problems, this should help me find and eliminate any bugs as well as giving everyone a taste of the gameplay. Don't worry, many things will be changed before the actual release.
Currently the plans for the future include:
Time (Night and Day)
New kingdom stuff (Challenges)
Trees and grow able plants
Crafting
Bug fixes and General Improvements.
Thank you to everyone that signed up for testing and double thank you if you actually end up testing this. Triple thank you if you fill out the tester survey and send it to me :)
Anyway, here's a quick screenshot of Doofus0402 and I chatting. (He has helped me with the Facebook page, again, be sure to like it at www.facebook.com/creationsgame!!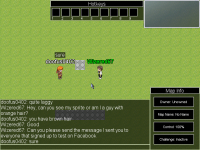 I hope to see some of you in-game! This is getting pretty exciting xD
It's not too late to sign up for testing! Just let me know ASAP!
-Wizered67