---
So I know it's been awhile, but I think now is a good time to show you guys one of the biggest custom features in the game. I've been working on this along with other new customizable objects and a ton more.
This object is simply, the quest object. Now I know, I've mentioned it in a previous article, but now we will go over exactly what it can do.
First and foremost, you can create chapters for your adventure. These can be like sagas and so on. (I'm a huge DBZ fan. ;-)) You can set your maximum amount of chapters and quests at the start of each world along with other options such as maximum variables, planet name, password, etc.
You can of course alter these options later if you choose. So lets discuss how chapters and quests work! It's simple. You can enter edit mode and add whatever quests you wish to your log. After doing so, you can edit that quests name, description and chapter. Depending on what the quests chapter is, when added to your log via the quest editor, it will change your current chapter to the quests chapter.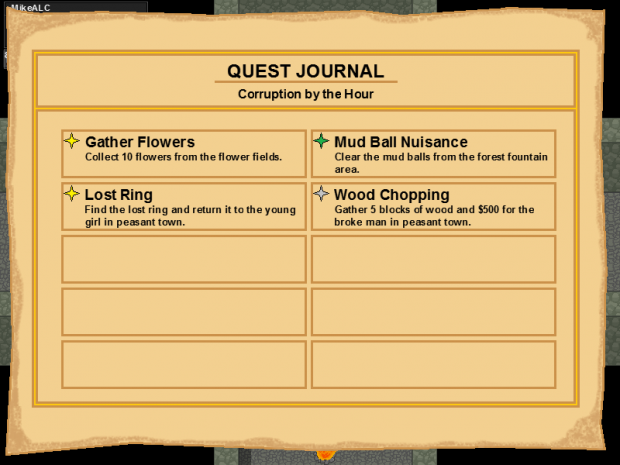 Quest management in game is extremely simple. You can click an inactive quest to set it as active, and vice versa. Quests can be dragged and dropped from page to page for convenience and help you know which quests are your top priority at the time.
As for the quest editor itself, it is very easy to manage. Simply edit each section as you see fit. To prevent cheating (easy item and money obtaining), I will be making it so that the player must sacrifice their own money and items to give them away as rewards. Experience rewards will cost a lot of cash to grant so that players don't simply cheat the system, and will require that the player editing the experience field, does in fact have a high enough level to meet their settings.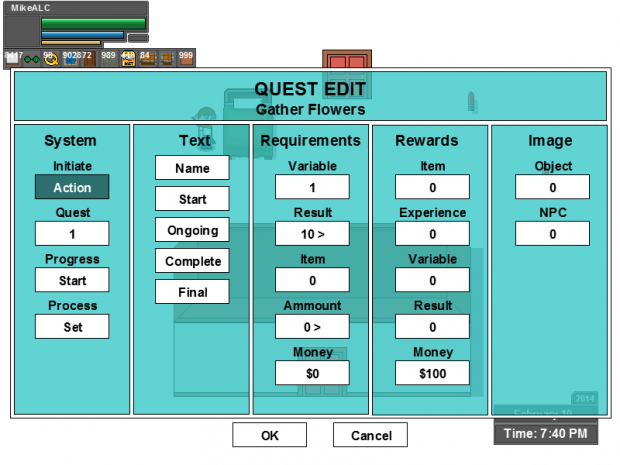 Players may set the quests text that shows up in the message box when speaking rather easily. Edit the name, starting text that is displayed to set the quest in motion, ongoing text for when the player has taken on the quest but not completed it yet, complete text for when players get the reward, and final text for when the quest object has nothing left to offer.
Players can easily select what quest is added to the log and completed with set requirements along with other system features such as how the quest is initiated (action, collide, auto, parallel) and players can edit the reward variable process as well (set, add, subtract).
Quest objects can have any image set for them along with all objects and all NPC's being options. Also, more than one requirement and reward can be set at a time.
So that's it! Adding custom quests and chapters will be a breeze! While some basic understanding of variables is needed, the quest object isn't very complicated and will allow the player to take their sandbox game and give it meaning. Hope you guys enjoyed this article and I can assure you that, a class and weapons article are set for the future. ;-)