The sprite sheets for the main characters are coming along nicely. Here are some random frames taken from their idle animations to give you an idea of what they will look like. Followed by a list of what has been finished or is being worked on.
The guys in sprite form
-uprezzed from 128x128 as they are ingame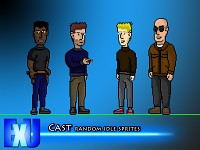 Click on it for a bigger picture
As you can see they all have different proportions, heights and attitudes based on their skills, strengths and character. From left to right:
Chass is fast, athletic and an ace shot, he's also quite serious about everything most of the time.
Boss is a... Well he's a big boss type of guy and quite though, supporting the guys in combat is what he does. And he does it with flair and a laid back attitude.
Jarvis is not as strong, but has technology, stun weapons and sarcasm to help him out
Joe is basically a big, loud and strong guy who has all kinds of heavy weapons, engineering and demolition perks
What has been done or is being worked on?
-a list of sprites and frames, I guess...
Chass:
Idle Animation 1 (3 frames)
Running Animation, weapon holstered (8 frames)
Boss:
Idle Animation 1 (4 frames)
Idle Animation 2 (20 frames)
Running Animation, weapon holstered (8 frames)
Jarvis:
Idle Animation 1 (a single frame, will be expanded upon)
Running Animation, weapon holstered (8 frames)
Joe:
Idle Animation 1 (a single frame, will be expanded upon)
Working on the "Running animation, weapon holstered"
Some more information and stuff
-information and stuff is always good!
The hard part for me is probably the fact that I've never really done sprite animation, however it is starting to look nice and smooth. Getting the hang of it, I guess.
I'm trying to give each character their own movement and feel, so to speak. Creating more work for me, because I have to add more individual animations. The running/walking cycles are the hardest it seems, it really shows when something is wrong. Mainly because we as humans are confronted with "walking animations" of real people everyday...
One thing I find quite interesting is the fact that at even at 128x128, the resolution I'm using for the characters, a single pixel has an huge impact on the facial expression. Never really thought it would be this big of an impact.
The reason I'm using 128x128 is because I'm creating full body human proportioned characters and want them to look exactly like the webcomic. Basically I need a bit more room to work with, due to the tiny details that have to go in. Especially the faces.
Well I hope this update was interesting, even if it was just a lot of textual information. I will get you guys something to look at once I get the basic animations (running/idle/jumping/shooting weapons) into the game.
Have a good one!