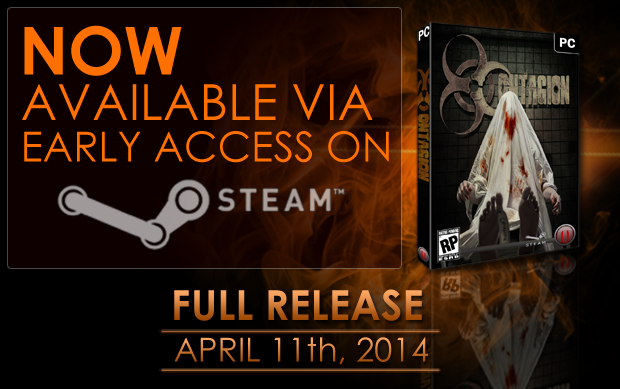 As promised we've released a new update this Week which includes our new map Barlowe Square. Currently only Hunted is available but Extraction and more will follow very soon (already playable). Quite a bit of work went in this week with new content, features, and optimization. We also touched up on other maps and CE_Biotec has made made some significant progress with another Escape map our ZPS friends may be interested in being discussed.
We have quite a few surprises for you this month and even after Full Release April 11th (almost there).
"Early Access" BUILD 4728 - Changelog:
Added new map CH_BarloweSquare (WIP with Extraction to follow shortly)
Added new Survivor and Zombie HUD and UI (WIP and More to come)
Improved/Enabled Blood spray/layers shader on Melee Weapons and Hands with improved materials
Adjusted zombie spawn system to spawn closer to survivors (no more running clear across the map)
Improvement and Fixes to CH_PioneerExpress navmesh, areas, spawns, and lighting
Adjusted Engine limits for Barlow fixing T-Junction error
Added new voice command HUD design
Fixed flashlight going behind player showing their own shadow
Fixed Zombies attacking players when not technically facing them
Fixed zombies not attacking players when getting attacked with a melee
Fixed map compiler tex-info crash when compiling cubemaps on large maps
Optimised vertex-lighting shaders
Fixed elevator code glitching
Removed old HUD code and optimized new
New weapon selection HUD
Made it so glass will damage players when walking through it if not destroyed around entry
Fixed ambient sound zones sometimes not activating
Fixed ambient sound zones not being selected properly on spawn
Fixed ambient sound zone detection for other players (Fixed distance sounds)
Removed unused resources from GUI
Character selection is now localized
New health and stamina bars
New scoreboard design
Adjusted common font to new chosen theme font
Adjusted ingame chat font, position and inner workings
Again it's important to remind everyone that we release Hunted maps first as they are the foundation of maps like these requiring less scripting so please be patient as we release Extraction and then Escape.
We released this media earlier as the servers were being updated on our new Facebook page that is really taking off. Also don't miss out on our Official Contagion Facebook Competition where we're giving out free copies of Contagion Gifts! Again it's very simple-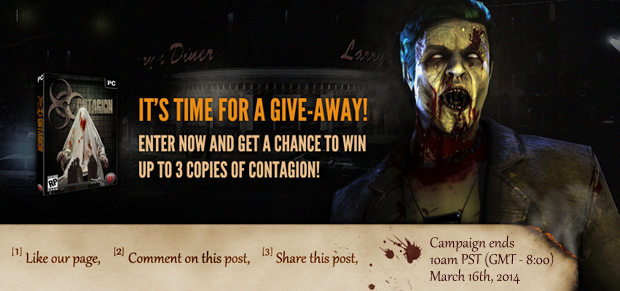 Enter into our Contagion Game competition for a chance to win free copies of our game as we share our new Official Contagion Facebook Page!
The point of this page is to share new media, announcements, and more as soon as possible and on the fly. We need your help to share this new page so no one is left out of the loop and so we will be rewarding 3 of our followers each picked at random using a program to keep things fair.
1st name picked will win 3 Copies of Contagion to use, share with friends, and/or trade.
2nd name picked will win 2 Copies of Contagion.
3rd name picked will win 1 copy of Contagion.
ALL YOU HAVE TO DO-
Follow these 3 simple steps (remember, our goal is to spread the word that Contagion now has a more focused portal for upcoming news and content so your friends and the rest of the community don't miss out) DO NOT FORGET THIS MUST ALL BE DONE ON FACEBOOK and not in this Steam Announcement!
1. Visit Facebook.com and simply LIKE the PAGE (not the Image).
2. In the related Facebook comments section please copy & paste the following; "Contagion is an Indie Co-op Zombie Survival Horror FPS and the spiritual successor to the popular HL2 Mod Zombie Panic Source."
3. And finally, SHARE the related Facebook post with your friends and family!
All those who complete the above mentioned steps will have their name entered into the competition!
The competition will end on Sunday, March 16th at 10AM PST (GMT – 8:00). Best of luck to all of you and we want to thank all those that participate!
-The Contagion Team