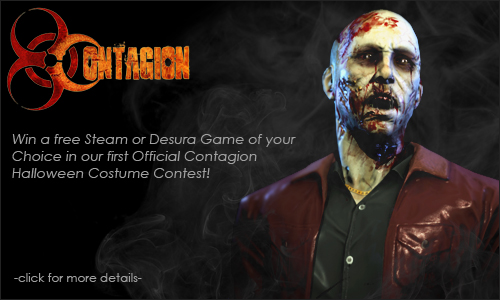 The entire team has been hard at work pumping out new content with daily in-house tests and we can't wait to reveal even more of our work. To celebrate our favorite holiday, we are going to host a Halloween Costume Competition -view the rules and post your entries here- where the best costume judged by both Monochrome LLC and Contagion-Fans.com will win a free copy of their choice (limited to one winner, one game, but not the price of the game so pick the game you're most excited to play).
All entries must be submitted by November 4th and the winner will be announced soon after. This should give everyone time to plan and prepare as well as grab their best snapshots during Halloween Parties and what not. Good luck to everyone!
It's time we shared a bit more of our work and so we've prepared some media for you all to enjoy but would like you all to keep in mind that everything we've shown so far and now is still WIP. We hope you approve! Also we will not be answering questions about whether or not you can drive vehicles.
More to come in the near future!