Hey moddb, before the update I just wanted to explain the current status of conscript ATM:
School/work has been a priority for the team, and we are going to go through a little slow period-
as in not pumping out a ton of stuff at once, with content packed updates every week and such.
We are looking for someone who can either make a map from scratch, or would re-texture,heavily
optimize, and edit some Beta WC maps. After my 2 key mappers left, it was up to me to do most
of the mapping work. Another character modeler/animator/texture artist would be great to have too.
I am also looking for a quake C Monster coder to help out as well
I've thought it over and instead of rushing it and trying to cram everything in at once,
we will release the game at a later time. Its only been around 2 years or so since conscript
started development. Look at mods like the nameless mod. SEVEN years it took to release,
and they created a masterpiece of a mod. We will certainly not take THAT long, but it will
be a little longer than I originally expected. Conscript is supposed to be a game that brings
a feeling of classical games like Half life 1, and brings it into a alternate hl2 beta reality,
and that's what you will get when this game is done.
Now another issue: The psp. I have been working hard to get the maps optimized enough/made
from scratch to work on the psp.Even with 128x128 textures, I have problems loading big maps.
I CAN load them, but for maps like the airexchange start, I need to make the 128x128 textures
scaled up x6, and it honestly looks horrible. The psp is also very tricky to get things to
work right. We WILL make a psp release, but if worst comes to worst I will have to dumb-down
a LOT of stuff to make it even work on the dang thing.ATM the manhack arcade works fine without
the textures needed to be scaled up, and the weapons and enemies seem to be working OK.
I am actually keeping the un-released PSVITA in mind, because of its potential to maybe
run conscript without a problem.
We have been making some pretty good progress, and we try to give you the best in every update.
Now for the content
The metropolice is fully animated, and Collasal has finished the elite variant as well: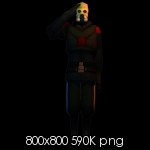 We now have a fully coded gauss gun thanks to ghost fang!(The sounds are temporary...):
Keep watching guys, we have more animated characters to show this week, so stay tuned!