The Enchanter can now repeat ritual automatically each month. This will speed up the game if you want to make lots of Terracotta Soldiers out of a swamp.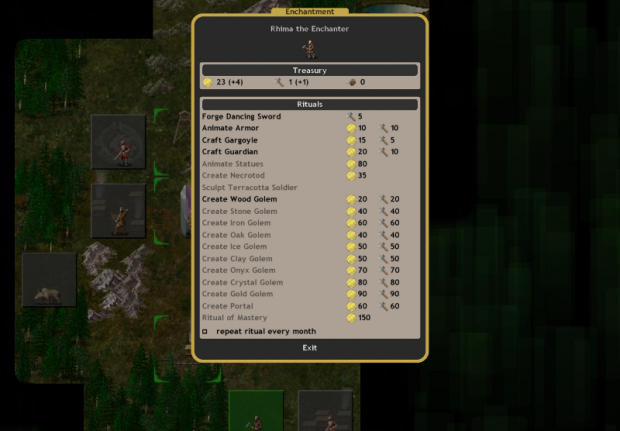 New features and bug fixes
Monthly ritual possible for Enchanter and Slave Hunting.
Front row pikeneers are now placed in the rearmost front rows.
Gateways are now ownable by everyone.
During evil times bandits will now pop from brigand lairs even if they are owned.
Auto spawned monsters were not added to retinue automatically if spawner was under the command of another commander, fixed.
Old weapon masters should not appear in the sea any longer.
Drought shown in income details for herbs and weed.
Ettin was missing from troll king's recruitment offers, fixed.
Sound is now started before graphics.
Modding
Can now add map events to mod (event, endevent).
New commands: masteryterreq, sumterreq, rearpos, lucky, ritualname, dosename.
Increased maximum nbr of recruitables 48 -> 128.
Copystats no longer copies the name of the monster.
Mastery rituals will now give a full set of spells to monsters that increase their spell casting ability more than one level.
Explicitly setting summoning cost type to gold would cause an error message, fixed.
Doubled the amount of special abilities a single monster can have. It was possible to run out when giving lots of summoning powers to a commander.
Map Editing
New triggers: chanceevent, onechanceevent.
Linux
Timeout when connecting to pulseaudio server. Should fix freeze for people who have pulseaudio installed but not active and with autospawn off.