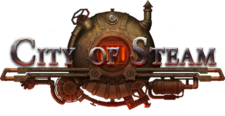 We love browser based MMOs with quality. So we are proud to introduce you a very special project by Mechanist Games, about a world of industrial actions and explorations, from the mind of David Lindsay, City of Steam Lead Designer.
MMORPGITALIA: Could you introduce to us Mechanist Games?
David Lindsay: Well, City of Steam and Mechanist games can all be traced back to the beginning of an idea: The World Machine. In 2003, I began writing the first version of the setting and the game system as a pen and paper roleplaying game based on 30-sided dice. I can be brutally honest in saying it was a great learning experience, but the game was pretty awful to play.
The second iteration of the game was also pen and paper, called The New Epoch, and was sold as a downloadable PDF on gaming sites. It was from this, that the game began to arouse interest.
It was with the support of my wife and two keen friends that we started JWGames, a humble indie development studio of 3, which soon grew to 7. We worked in a tiny apartment, survived week to week, took part time jobs and thoroughly enjoyed it. And after a year and a half, JWGames attracted more investment, so we founded Mechanist with the help of our newfound friends.
At the very core, we're much the same as we were in the beginning. We believe games are a great form of art, we are passionate about playing and making games, and we respect the integrity of our players and the community. That's our company philosophy right there.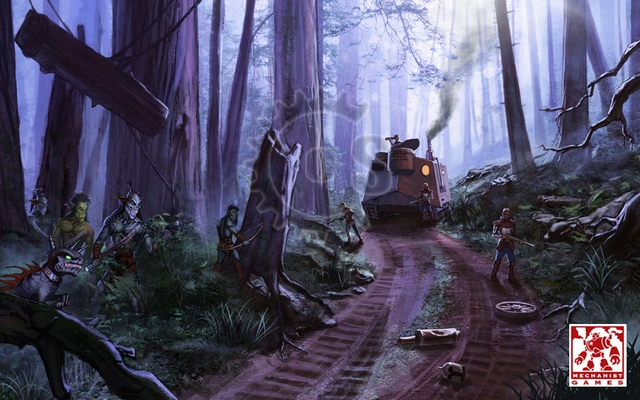 MMORPGITALIA: What's the secret to reproduce a real steam punk feeling inside a MMO? And the main problems about that.
David Lindsay: Well, actually we never use the word steampunk here. We call it an industrial-age fantasy. The steampunk genre tends to be grounded in real world history, like Victorian England. But hey, we do have steam bikes and monocles, so if the shoe fits... okay, we're not going to fight the word.
In terms of art, industrial/steampunk can not be done by half. You have to go all in. Industrial flavor permeates everything, from the tiniest insect to the entire world. It's like a lens or a looking-glass that colors everything else.
This is simultaneously both the solution and the problem. Great industrial settings require everything to be designed with an eye to function. But that means everything needs to be designed, from scratch! We had to get out or geometry set and calculators before we could even get the world working. Even yesterday I spend a few hours tuning the motion of the gears making up the world machine.
Furthermore, industry suggests design and function, so we can't always fall back on "it's magic!" to make the world believable. This is not to say we don't have fantastic wonders, but we really try to ground them in believable technology. Those springs, pumps, wires and magnets all have to line up in a semblance of design, as if everything came from a blueprint. And if things do arise spontaneously, we have to make fiction to support that too. I mean, how does a machine make another machine?
You can see in a lot of our higher end armors and weapons that they have wires, valves, gears, and components other than fantastic alloys. Even our most ornate equipment is also, at least somewhat plausibly, functional.
And of course, there needs to be a rich social and political context to the races, classes, monsters and factions. Newspapers with conflicting propaganda, loudspeaker announcements, steam-powered guards and disaffected rebels all help to create a believable microcosm of life in the world at large. Every corner of the world needs to be represented in this cosmopolitan melting pot.
MMORPGITALIA: Could you talk about the settings that the player will meet in the game? How big will be the game's universe?
David Lindsay: The game is entirely based in the City State of Nexus, right next to the World Spire. The player begins in one of the largest urban centers of Nexus, a dilapidated and troubled region called Ebonwax.
We decided very early on that we would do some areas very well, rather than do a lot of areas very poorly. One of my personal gripes about recent MMOs is that these huge game game worlds are so lacking in detail, so feature sparse. In City of Steam, the world detail density is very high, so there is a lot of exploring to do in every location. You will never run across a barren plain for 2 hours to reach your quest destination -all our zones are hubs or "dungeons", and you can take the railhauler wherever you need to go, instantly!
Right now there are 9 large hub areas, 6 of which are finished, and hundreds of instanced action/exploration levels. But we've left ourselves a lot of room to grow both geographically, narratively and demographically (as far as races and classes go).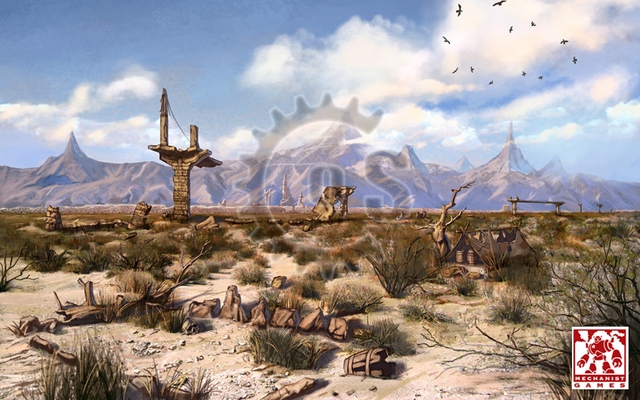 MMORPGITALIA: Are there differences between races in terms of gameplay and stats/bonus?
David Lindsay: Sure are. There are 20 race models we plan to make available in the game. Right now, most are finished. That's not bad as a launch point, but our armor and equipment system is flexible to accommodate more if that's what players want. As far as character stats go, they are all different, and certain combinations of race and class will result in better character builds to start. We're currently weighing up whether or not to limit classes to certain races. That would prevent very weak character builds in the beginning, but ultimately reduce the number of options the player has to work with, and since any character can already wield any weapon, choice is the name of the game. Many of the racial talents that are present in previous versions of the books are unimplemented. Many just aren't suitable in a computer game platform. However, that doesn't mean we won't try and adapt them later -it's still on the menu.
MMORPGITALIA: How the progression of our character will work?
David Lindsay: The character will be awarded with vital points (for character stats) and ability points (for abilities). We've had some great suggestions from fans to arrange skills into trees like a clockwork mechanism. And while abilities are currently in a simple (easily testable) list, we are going to make a flavorful way of presenting them for sure.
MMORPGITALIA: What about the combat system in City of Steam?
David Lindsay: All explorative/action environments allow players to flip back and forth between combat and exploration. Players can draw a weapon to enter a focused combat mode, which makes all their abilities available. Or, they can put away their weapons to run faster, regenerate more health and explore with greater freedom. In the first playable version of the game, combat was much more strategic and tactical. But it was also slow and difficult for new players to understand. Currently, it works much more like an action RPG, so there is no learning barrier for new players. We still want to have two distinct switchable modes, combat and explore, but we don't impose restrictions on what you can and can't do in either.
MMORPGITALIA: What you reveal about crafting?
David Lindsay: In an industrial age, most items a character comes across were mass-produced in factories. So, we don't have crafting as such -we have weapon and armor customization. Each piece of weaponry and armor can be socketed with components that will enhance performance. Weapons can have anywhere between one and ten sockets, while armor will probably have less.
MMORPGITALIA: Will there be PvP in the game?
David Lindsay: Yes there will! We're working on our PvP system right now. We want to make duels possible in almost any place, but restrict massive player wars to specific areas. Of course we are planning an arena, called the Cauldron, in which you can battle for honor. But this isn't top priority until we are satisfied with our combat system.
MMORPGITALIA: Are there pets and mounts/vehicles in the game?
David Lindsay: Pets and vehicles, like many other potential features, will be implemented by a voting system. We are a small company, without the ability to finish so much content in such a short time. So, any unfinished features or any potential features (including player suggestions) can be voted for on our forums and on the main site. The features with the most votes will be what we implement first. Basically, we would love to improve our game in any way, and will be very receptive to community feedback.
MMORPGITALIA: What kind of missions will have in CoS?
David Lindsay: The quest system of CoS is something we are really excited about. Of course, we will have daily, weekly, timed and local quests as well as special events that will occur from time to time. But we are really looking forward to making our epics. Epics are quests with multiple chapters that will be released weekly or biweekly, to extend the story and really get people interested in the setting. Again, these quests will be polled on our forums, so that the coolest quests will get more attention and more development than others. Furthermore, we will create dramatic narrative that flows with the other special events and quests of the world. In simple terms, epic quests will have a lot of different branching stories. They play out much like a single player experience, so your choices won't necessarily affect anyone else. And whenever we release another chapter, you can pick up the storyline and continue the quest to advance your story.
MMORPGITALIA: Plans for beta and release?
David Lindsay: We have just finished an overhaul of combat, and will be tweaking and improving for some time yet. Although we will be showing a lot more videos of gameplay, we won't be ready for a big public test until early 2012. That said, we will be having certain playtest events on local networks. Tomorrow, a small team of us will be heading to GDC China to give other developers a look at City of Steam first hand, and let them play the game. Hopefully we can get some feedback, suggestions and improve the game accordingly. February is the current estimate on the alpha release date, and a full open beta would come shortly afterwards. Our revamped cityofsteam.com website will be finished in bits and pieces over the next month, so we hope to keep players informed on development journals, progress and timelines.
Source: MMORPGITALIA