In 2009, I posted my first completed game, The Longest Night, online to decent feedback. It has since garnered a few thousand plays on Kongregate, but one character from the game has always had people sympathizing with the game's message: Hoodie. Hoodie was the only child and only faceless character in the game, an androgynous and metaphorical move that allowed the player to imprint their own face onto Hoodie.
Now, Hoodie is back, and where else? In CHILDREN OF LIBERTY! Hoodie makes the long arduous journey from Dorchester over to the North End to wreck Redcoats and cause havoc alongside Joseph, Ally, Doug, and Sarah! He features no special abilities (including no jump) so you'll have to find other ways to traverse the environment. He can take cover in the shadows, but falls asleep against the wall if you do. Aww, poor little guy!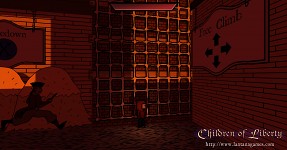 Hoodie may or may not be unveiled at PAX East later this week! See you all there!