Hello friends! No blog update this week. Instead, I bring you an even more important announcement: The February Alpha of Children of Liberty is now up on Desura! Our last update was many moons again, and while there's still plenty of work to be done, bugs to be fixed, and performance to improve, we feel really good about the direction the game is headed!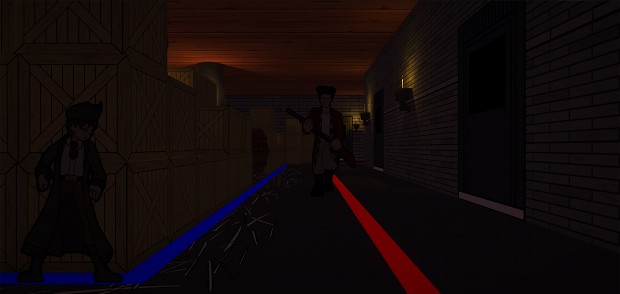 Here are the patch notes for this latest update:
Entirely new code base for controls + AI. We have made a concerted effort to improve our coroutines and not put the burden of the entire game on the GPU.

Improved lightmapping and occlusion culling for increased performance.

"Blue Line" Freedom Trail to show where you can hide.

Greatly Expanded Warehouse level! Now 3 floors instead of just 1.

Billboarded enemy sprites to show Redcoats from Front, Back, and Side. Correlates to your current position.

Modified Redcoat vision cone size, slightly shorter but taller. Easier to perceive Z-depth.

Modified Redcoat size. Taller!

Some new Tutorial Signs throughout the Warehouse level. Still playing with pacing for this.

New Pattern-based AI system. Now all enemies act differently. Study their patterns to sneak past them!

Joseph's Side Swipe now works at any poit on the Red Line. Side Swipe will stun enemies if they've seen you.

New details and lighting added to warehouse, including brand new textures, sprites, and a revamped skybox.

Game will now automatically close on completion of the Warehouse and open childrenofliberty.us in your web browser.

Improved Corner Point camera positions. Much more classic stealth-game corner peeking style.

Ladders! Shuffle up to a ladder on the blue line and hit Jump to climb up. Player currently automatically drops down if at the top of a ladder, but you can hit Jump to grab on. Press Down + Jump to get off a ladder at the bottom.

Known bugs: Redcoats not waking up downed enemies; Redcoats sometimes disappear on takedown; Respawn/checkpoint issues; Victory animation not playing at end of level; geometry sometimes occludes badly on ladders.
Incoming Features:

Corner Takedowns; More AI Improvements; Hop To Blue/Hop to Red Improvements; Even snappier controls + timing; Action UI; Long Wharf Level
If you are a Kickstarter or Desura Alpha Funding backer, you should receive the update automatically by opening Desura. We feel like we are now at a point where we can start pushing updates more consistently. Fingers crossed!
This is also our first build with an included Linux version! Please please PLEASE test this out if you can!
Please make sure to contact us if you run into any issues or bugs!